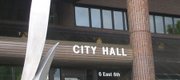 Subscribe to the email edition of Town Talk and we'll deliver you the latest city news and notes every weekday at noon.
News and notes from around town:
•Whether you are east or west, you likely are not going to have a problem finding your cup of Morning Joe. Last week we reported on rumors that Starbucks will open a new store in northwest Lawrence. Well, today we have news of an East Lawrence option — and perhaps not surprisingly it won't have the Starbucks feel.
An East Lawrence company that specializes in renovating historic homes has filed the paperwork at City Hall to convert an old industrial building at 920 Delaware Street into a coffee house. The building is in front of the Allen Press offices and warehouse near Hobbs Park. Long ago, the building used to be part of the Poehler grocery warehouse operation, which had its main warehouse about a block to the north. The Poehler warehouse building currently is undergoing a multi-million dollar renovation into affordable apartments.
Matt Jones, a co-owner of Struct-Restruct, took notice of that and began thinking of how the unique building at 920 Del. — which was built in 1910 — could be better used.
"This area seems to be changing quite a bit, and we really love the neighborhood," said Jones, whose company has remodeled many of the homes in the 900 block of Delaware. "We think that there are enough people living and working around here that we could make this area a vital part of the neighborhood."
Jones' company has its woodshop in the building next door to the coffee shop location. A friend of Jones' will run the coffee shop, but Jones said Struct-Restruct may use the coffee house as gallery space for some of its woodworking creations.
The company, however, is first seeking to rezone the property from a heavy industrial category to a light industrial category to accommodate the coffee shop. Jones said he hopes to begin renovating the building early next year.
• While we're talking about old East Lawrence buildings, there is news about the Social Service League Thrift Store at 905 R.I. The store is directly behind the proposed multi-story hotel and apartment building planned for the southeast corner of Ninth and New Hampshire streets.
The hotel/apartment project hasn't yet won approval from city commissioners, in part, because owners in the 900 block of Rhode Island Street have objected to the impact the tall building would have on their properties.
But now I'm getting word that the development group for the hotel/apartment project — which is led by Lawrence businessmen Doug Compton and Mike Treanor — have made an offer to help the Social Service League Thrift store repair its building, if the hotel/apartment project goes forward.
Treanor confirmed to me that the development group has toured the store's building and believes it can donate some significant improvements. In particular, the thrift store building includes an old, historic structure along Rhode Island street, but there is — how should we say — less historic addition that is along the alley. That addition is in poor shape, and Treanor said the development group would entertain the idea of completely rebuilding the addition for the thrift store.
Some people may see this as a gesture of goodwill from developers who are set to become new neighbors to a historic district, while others may see it as an attempt to simply gain favor with a key player in the neighborhood. That will be up to you to decide, but the development group does have a history of making donations to non-profit organizations. Treanor and Compton are the leaders of the development group that donated the property for Theatre Lawrence's new facility, which will be built in the Bauer Farm development near Sixth and Wakarusa.
The city's Historic Resources Commission is scheduled to have another hearing on the hotel/apartment project at its meeting on Thursday evening.
• City commissioners are ready to take the leap on another multi-million dollar project on Iowa Street. Commissioners at their meeting on Tuesday are expected to formally accept $500,000 in funding from the Kansas Department of Transportation to overhaul the intersection of 23rd and Iowa streets. By accepting the funding, the city basically will be committing to spend about $1 million to match the $500,000 in state funding.
Commissioners will jump at that deal, though. The intersection is the busiest in Lawrence, with about 60,000 cars per day. Plans for the previously announced project include adding dual left-turn lanes for east and west bound traffic and reconfiguration of the free-flowing right-turn lanes at the intersection. Those right turn lanes have created problems with people weaving and merging into traffic on both Iowa and 23rd streets.
As part of their action on Tuesday, commissioners will direct staff members to send out a request for proposals for engineers to design the intersection. Design work is expected to take until 2013. Construction would not begin until 2014. Thus far, the city believes the project can be completed without purchasing any additional rights-of-ways or easements from adjacent property owners.
Copyright 2018 The Lawrence Journal-World. All rights reserved. This material may not be published, broadcast, rewritten or redistributed. We strive to uphold our values for every story published.