Feminist writer Amanda Marcotte will be featured during a panel discussion at 7 p.m. Thursday at Ecumenical Christian Ministries, 1204 Oread.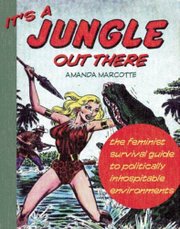 The event is free but contributions are encouraged to support the work of the Kansas chapter of the National Organization for Women.
Marcotte has written two books, "It's A Jungle Out There: The Feminist Survival Guide to Politically Inhospitable Environments" and "Get Opinionated: A Progressive's Guide to Finding Your Voice."
She also blogs at Pandagon, Slate's Double X, and RH Reality Check.
Following the panel discussion, Marcotte will have a book signing.
Copyright 2018 The Lawrence Journal-World. All rights reserved. This material may not be published, broadcast, rewritten or redistributed. We strive to uphold our values for every story published.