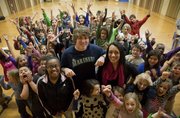 For Trei Dudley, the Lawrence Boys and Girls Club helped redefine her lifetime goals. For Ajala Anavberokhai, it provided much-needed confidence at a young age. And for Bryce Page, it was a place to be himself.
The three high school students have outgrown the Boys and Girls Club's after-school programs, but they continue to be a part of the organization. And for their work, the three have been nominated for the Youth of the Year award. The award will be presented at a ceremony at 6:30 p.m. Thursday at the Lied Center, 1600 Stewart Drive.
At the ceremony, the three teenagers will share the importance that Boys and Girls Club has had on their life. And when they do, development director Erika Zimmerman predicts there won't be many dry eyes in the audience.
"We've watched them grow into amazing young adults," she said.
Dudley has been a club member for more than 10 years. In elementary school, the after-school program became a second home.
"I got attached to everyone there. So when I was in junior high, I volunteered. And in high school, I worked there," Dudley said.
While as a kid she enjoyed playing four square in the playground, more recently the club's leaders have had a bigger impact on her life.
"They led me down a different path I didn't think I would go down. Originally, I wanted to be a cosmetologist. And they said I had a lot more potential than to work in a hair salon. I kind of looked at different options and decided to go with business management," Dudley said.
A senior at Free State High School, Dudley plans to attend the University of Arkansas next year and wants to someday own a salon.
Anavberokhai started at Boys and Girls Club as a grade school student in the Pinckney program. She liked playing on the playground, performing in the annual talent show and being on the basketball team.
"I loved everything about it. I made so many connections with so many different people. I wanted to be there. There wasn't a part I didn't like," she said.
She continued her involvement in junior high and said the program provided more than just fun activities to do after school.
"As a kid, I was really shy and quiet. It gave me a sense of knowing what I'm worth and not underestimating my abilities," she said.
Today, as a junior at Free State High School who still volunteers at the club, Anavberokhai is looking at schools and plans to major in psychology and broadcast media. She dreams of becoming a talk show host.
"I really want to be an impact on the world," she said.
Page joined the Boys and Girls Club in seventh grade, shortly after moving to Lawrence. He was new and looking for friends. What he found was a mentor in the club's program manager, Brian Franklin.
"It's a place for me to be myself," Page said.
By the time Page reached high school, he was mentoring the younger kids in the program. He served as a junior staff member, high school staff member and volunteer coach.
"I just wanted to give back the time and energy and all the encouragement I have had over the years," Page said.
A senior at Free State High School, Page is looking at pursuing a career in sports training and medicine.
Throughout the year, the three young adults will be ambassadors for Boys and Girls Club, sharing their stories throughout the community. The honor also comes with a scholarship.
Copyright 2018 The Lawrence Journal-World. All rights reserved. This material may not be published, broadcast, rewritten or redistributed. We strive to uphold our values for every story published.