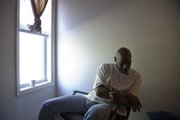 Exonerated, but still not free
Two people whose lives were severely set off course by a sexual assault anxiously wait to see whether DNA evidence can finally provide answers.
One of those people, a woman who was raped in Topeka in 1985, wants to know who her assailant was and wants him punished. The other person, Topeka resident Joe Jones, who spent seven years in prison after being wrongfully convicted of the rape, wants to see justice done two decades after his exoneration.
"I'm tired of everybody dragging their feet," said the woman, who asked that her name not be used. Both she and Jones have been in contact with the Topeka Cold Case Unit, which reopened the case after a Lawrence Journal-World investigation identified potentially testable DNA evidence stored in a cooler in California.
Detective Adam Arensdorf of the Topeka Cold Case Unit said the Kansas Bureau of Investigation also has evidence from the case stored in its archives. Agents are working on testing the DNA, he said, but he wasn't able to give a timetable for when results would be available.
Carey Ziegler, a forensic scientist with the KBI, explained how old evidence is stored and discussed some of the issues that determine whether old evidence can yield useful results.
Though Ziegler was not able to comment on particular cases, she said that old evidence is stored in a freezer at KBI. That evidence could contain items with blood or semen on them, or could consist of fluid extracts. After decades have passed, it's never a given that such evidence will provide enough DNA for testing, as the amount and age of the evidence play a factor, she said.
In old cases, the process takes longer, Ziegler said, as scientists must first determine the best testing method for a sample.
"Each case has its own timeline," she said.
Arensdorf said this case was further complicated by chain of custody issues, as investigators needed to track down documents as to how and when some of the evidence was sent to Forensic Science Associates, which tested some of the evidence in 1992. Ed Blake, the scientist who originally tested the DNA and testified at Jones' exoneration hearing in 1992, said evidence is typically returned after testing. KBI also keeps a portion of the material and stores it at its facility. If the evidence stored at KBI can't produce results, Arensdorf said the KBI would pursue obtaining the evidence stored at Forensic Science Associates.
If the evidence at KBI can produce a DNA profile, it will then be entered in the national DNA database with the hope that the profile would match one of the 10 million offender profiles in the system.
Though the five-year statute of limitations for prosecution of rape cases in Kansas has long passed in this case, Kansas law allows for prosecution of rape cases for up to one year after DNA evidence has identified a suspect.
Copyright 2018 The Lawrence Journal-World. All rights reserved. This material may not be published, broadcast, rewritten or redistributed. We strive to uphold our values for every story published.