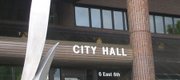 Subscribe to the email edition of Town Talk and we'll deliver you the latest city news and notes every weekday at noon.
News and notes from around town:
• What's next, a subway? The Brooklyn Bridge? Regis Philbin wandering the streets? Probably not, but indeed Lawrence is becoming a bit more New Yorkified. We previously reported there were indications a New York-style pizza place was going to set up shop at Sixth and Wakarusa. Indeed that is the case.
Roger Morningstar — of KU basketball fame — plans to open Morningstar's New York Style Pizza by mid to late March. It will open in a vacant space that used to be the Westside Diner. The space is right near the Salty Iguana. Morningstar's business follows news that the downtown New York pizzeria Papa Keno's has changed ownership and is being revitalized, and that Tad's Pizzeria is opening in the former Little Caesars location at Bob Billings and Kasold Drive.
As for Morningstar's place, it will be a sit down restaurant that seats about 60 inside and about 16 in an outdoor area. In addition to the thin crust, New York-style pizza — served both by the pie and the slice — the restaurant plans to also serve pasta dishes, hero sandwiches and liquor. (If I thought I was going to run into Regis Philbin, I need liquor too. Now Kelly Ripa ... )
Morningstar, who was a KU hoopster in the 1970s, said the place will have a sports theme as well. But don't expect to see Roger's son and member of the 2008 National Championship team Brady Morningstar making pies at the place.
"He's still chasing the basketball dream, but the whole family will be involved to a point," Morningstar said of Brady who is playing in the NBA development league in Tulsa. "Everybody is excited."
Morningstar is partnering with a restaurant owner and friend who is in the pizza business in Denver.
"We had for years been talking about doing something in Lawrence, but the timing just never seemed right," Morningstar said. "Now the timing seems right."
• If you would rather put your face in a book than a slice of pepperoni with extra cheese, you may want to pay attention to the search for a new director of the Lawrence Public Library. The library has narrowed its search down to three finalists, and the public will get a chance to meet them.
The library has scheduled three public meetings with the finalists. Those meetings are set from 3 p.m. to 4:15 p.m. on Feb. 15, Feb. 21 and Feb. 28. The Feb. 15 meeting will be at Lawrence City Hall, while the final two will be at the library.
The library board of directors has not yet released the names of the finalists. Instead, library leaders will release a name and résumé of each finalist on the Monday before their scheduled meeting. But interim library director Mike Wildgen did confirm that there are no local candidates among the final three.
As we previously reported, the library had 30 applicants from across the country apply to take the post vacated by longtime director Bruce Flanders. Flanders oddly retired and then surprised library leaders a few days later by taking a library director position at Mid America Nazarene University.
Following the interviews of the finalists this month, the library board should be in a position to make a hire shortly. That will allow a new director to be on board while crews undertake the $19 million expansion and renovation of the library.
• While we're on the subject of searches, I expect an announcement on a new director for the Boys & Girls Club of Lawrence to be made soon.
My understanding is the search committee interviewed three finalists in late January, and expects to make an announcement by mid-February. The position drew more than 40 applicants, Jana Dawson, chair of the Boys and Girls Club told me recently. The new director will replace Janet Bremby, who left when her husband Rod, took a job as commissioner of the Connecticut Department of Social Services last year.
• A quick follow up on a story we previously reported on. Iwig Dairy reports that it has successfully found enough investors to open a Lawrence store that will sell its farm-fresh milk, butter, ice cream and a host of other products from area farms. The store will open on Friday morning and have a grand opening celebration all day Saturday. As we previously reported, the store will be at 19th and Massachusetts, on the southwest corner in space next to the temporary Dillons pharmacy.
In addition to the milk, butter and ice cream, the company — which operates its dairy in nearby Tecumseh — plans to sell locally produced cheese, granola, organic vegetables, and bread.
"We're really excited to get into the Lawrence market," said owner Tim Iwig. "This is where we really need to be. We already have a lot of faithful Lawrence buyers."
Iwig said his company's milk will continue to be sold in all the area grocery stores that currently handle the Iwig brand, but he said the milk will not be sold in Lawrence Dillons stores. Hours of the new store — which will be similar to a store the company operates in Topeka — will be from about 10 a.m. to 6 p.m., Monday through Saturday.
Copyright 2018 The Lawrence Journal-World. All rights reserved. This material may not be published, broadcast, rewritten or redistributed. We strive to uphold our values for every story published.