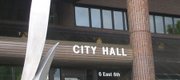 Subscribe to the email edition of Town Talk and we'll deliver you the latest city news and notes every weekday at noon.
News and notes from around town:
• So a Lawrence snow cone maker walks into a New York pizza parlor. It sounds like the beginning of a joke, but there's no punchline here. Just a new West Lawrence restaurant that is slated to open next month.
Tad's Pizzeria: New York Style Pizza Straight from the City is slated to open around March 1 in the former Little Caesars location at Bob Billings and Kasold Drive. The restaurant got its start — and long name — from a trip Tad Gellender made to New York City recently. Gellender is the Lawrence entrepreneur who has owned Tad's Tropical Snow — the little snow cone shop that is open during the spring and summer near the NAPA Auto Parts Store on Iowa Street. Gellender told me he has always wanted to own a New York style pizza shop, so he went to the city to do a little a research. He said he went into one pizza shop near Wall Street and ended up loving the pizza and hitting it off with the owners who were working behind the counter. One thing led to another, and eventually the owners offered to help Gellender set up a Lawrence restaurant. What? You want to know the name of the New York restaurant? Forget about it. Gellender said not releasing the name was one of the conditions of the deal.
"They're not really looking for people to hit them up about franchising," Gellender said.
Gellender is having a special brick oven installed, and is learning the shop's recipes for dough and sauces, and is making contacts with authentic New York style pizza suppliers. (Be careful if their names are Vinnie and Vito and their car stereo is always playing the theme to the Sopranos.)
The restaurant will be set up in a New York style as well. Instead of selling small, medium and large pizzas, the restaraurant will just make one size — 18 inches. And it will be called a pie. The restaurant, though, will sell pizza by the slice. What it will not do, however, is offer sit down service. There will be several bar-like tables in the restaurant, so that people can come in, order a slice and lean against something while they eat it. No word yet on whether you have to complain about how A-Rod can't hit in the postseason, and about how the Mets are fricking awful, while you eat your pie.
The New York style pizza, of course, will be of the thin crust variety — the type that you can fold over and eat like a taco. But for folks who don't like the thin pizza, Gellender plans to serve a Sicilian-style, thick square pizza, and also will have calazones and stromboli.
Delivery orders are expected to be a big part of the company's business, and he hopes to tap into both the college market and the West Lawrence market with his location. Hours are slated to be 11 a.m. to midnight Sun -Tues and from 11 a.m. to 3 a.m. on all other days, although the restaurant will close to in-store dining at 10 p.m. every night.
Allison Vance Moore of Lawrence's Colliers International brokered the deal for the restaurant space.
• It looks like we may be seeing a trend here. Another New York style pizza place apparently is opening at Sixth and Wakarusa near the Salty Iguana. Moringstar's New York Pizza has filed for a drinking establishment license with Lawrence City Hall. I'll try to get in touch with those folks and report back. I don't have any official word on who is operating the restaurant, but it sure looks like Roger Morningstar — the former KU basketball player and the father of hoopster Brady Morningstar is involved. At least there was a job listing that directed applicatants to leave a message for a fellow named Roger. Maybe just a coincidence. I'll let you know when I hear more.
• I don't think it will have a New York-style pizza parlor, but Lawrence is getting a new downtown library. And the $19 million construction project is receiving a lot of interest from folks in the struggling construction industry. I also have gotten the feeling that city commissioners are hearing quite a bit from some in the community how it would be good if this building project could be as local as possible.
That's why what is happening today will be interesting. As I reported in article today, the city is interviewing five construction firms who want to serve as the construction manager for the project. The construction manager basically will take the place of a general contractor on this project. The job will probably come with a pretty good size fee. City Manager David Corliss didn't want to release the names of the five finalists quite yet. But I think there is a lot of interest, so I'll tell you what I've heard. Only one of the five finalists is local firm. This is unconfirmed, so take it for whatever you think it is worth, but I hear the finalists are: B.A. Green Construction of Lawrence; McGown Gordon Construction of Kansas City, Mo.; Turner Construction of Kansas City, Mo.; J.E. Dunn Construction of Kansas City, Mo.; and Ferrell Construction of Topeka.
I don't know who all applied, but I'm fairly certain at least a couple of other Lawrence contractors did. It will be interesting to see how the selection is made. But the city has set up the construction process in way that local construction firms are going to have several more opportunities to win jobs as part of the project. By going with a construction manager rather than a general contractor, there will be multiple public bids accepted on various phases of the project. That will allow smaller Lawrence companies to bid on work as it becomes available.
• Another week, another set of real estate transactions to report. Not much volume at the Douglas County Register of Deeds office for the week ending Jan. 30, but click here to see what sales did take place. One of note, it looks like a piece of commercial property in North Lawrence has changed hands. It appears the owners of Motorsport has sold the real estate that houses that business at 646 N. Second Street. The building has been purchased by Rebel Hawk, LLC, a group that appears to be led by Harry Herington — who I believe is the same Lawrence businessman who is the Chairman and CEO of NIC Inc., a fast-growing and publicly-traded information services company in suburban Kansas City.
Copyright 2018 The Lawrence Journal-World. All rights reserved. This material may not be published, broadcast, rewritten or redistributed. We strive to uphold our values for every story published.