In a game as tightly contested as Lawrence High's 54-51 victory against Shawnee Mission West on Tuesday night at LHS, to say one play mattered more than any other would be unfair and inaccurate.
Photo Gallery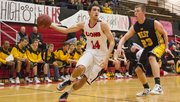 LHS boys vs. SM West
But there were a few that stood out. And most of them came during winning time, when the Lions (9-6) used an 8-0 run of highlight-reel plays to gain separation and pick up a big Sunflower League victory.
First came a dunk from sophomore Bryce Montes de Oca with 4:53 remaining that broke a 42-all tie and sparked the LHS run. Although it rattled around and fell through, the slam was the result of Montes de Oca setting himself deep in the paint and getting a perfect pass from senior Logan Henrichs (11 points, two rebounds, two assists and a steal).
"I knew I had great position, but once I got it I wasn't sure what I was going to do with it," said Montes de Oca (12 points, six rebounds), who earlier in the game misfired on a dunk attempt but got his own rebound and softly laid it back in.
Moments later, after two Henrichs free throws and a big-time block by Montes de Oca on the defensive end, teammate KJ Pritchard (14 points, 5 assists) finished a fast break with a monster slam over two SM West defenders. Pritchard's dunk, which put the Lions up 48-42 with 1:56 to play, came off of a sweet pass from junior guard Jake Mosiman and served as the bucket that slammed the door on the victory.
"I didn't really see it coming at first," Pritchard said of the dunk. "But me and Jake do that a lot in practice, and he always knows how to find me. He gave me a great pass, and that was definitely the best dunk I've ever had in a game."
On the very next possession, Mosiman again set up a dunk, this time by knifing into the lane and dishing to Montes de Oca, who made sure his third dunk attempt of the night was worth talking about.
Those eight points were big, but they may have never come had it not been for two baseline jumpers from junior reserve Tyrone Jenkins a little earlier. The first gave LHS a 40-36 cushion with 45 seconds to play in the third quarter. The second — off another assist from Mosiman, one of five on the night — got the Lions started in the fourth.
"He shoots those shots in practice, and we have all the confidence in the world that he's gonna make them," Pritchard said.
LHS opened Tuesday's game on a 10-0 run and built a lead of 14-2 before the Vikings could even break a sweat. However, what looked to be a rout early on quickly turned into a dogfight thanks to the hot shooting of SMW senior Mitch Witter, who finished with a game-high 26 points and led all scorers with 17 points by halftime. He found himself open so often because the Lions were focused on stopping junior Jay Temaat, who scored 34 points and nailed seven three-pointers in a game last week. LHS, and mostly Pritchard, limited Temaat to seven points on 2-of-7 shooting Tuesday night.
"We really needed this," Pritchard said. "Everybody pitched in, and that's kind of the way it's been lately. We're meshing really, really well."
Added LHS coach Mike Lewis: "This was a pretty classic Sunflower League game. I told the guys before the game that you have to throw out the records and come out to compete and play hard, and I think we did that. I was proud of our effort and our toughness."
LHS will play host to Olathe North on Friday.
Copyright 2018 The Lawrence Journal-World. All rights reserved. This material may not be published, broadcast, rewritten or redistributed. We strive to uphold our values for every story published.