A $2.4 million estate gift from Kansas University alumnus George A. Daniels will establish an endowed scholarship for undergraduates at KU.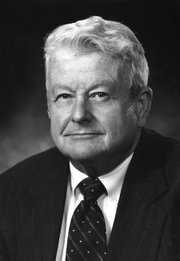 Daniels, who died in July 2011 at age 77, grew up on a farm near Smith Center. He was able to attend KU because of a Summerfield scholarship.
He graduated with a bachelor's degree in chemical engineering in 1955.
Daniels earned a master's degree in chemical engineering from Louisiana State University, where he also donated money to establish a similar scholarship, said his sister, Marian Montee, who serves as the executor of his estate.
She remembered he was the valedictorian of his class, but he relied on the scholarship to provide the necessary funds for his undergraduate education.
"He remembered what the scholarship did for him," Montee said.
He went on to teach thermodynamics at LSU and held four patents that dealt with chemical processes.
Matt Melvin, KU associate vice provost for recruitment and enrollment, said the money would fund a renewable scholarship that would essentially pay a full ride. The scholarship would cover tuition, room and board, fees and books for an in-state student.
"We anticipate that endowment collecting enough money to fund basically one to two full rides per year," Melvin said.
Aside from athletics scholarships, the next closest scholarship at KU to a full ride is the $10,000 National Merit scholarship, Melvin said.
Copyright 2018 The Lawrence Journal-World. All rights reserved. This material may not be published, broadcast, rewritten or redistributed. We strive to uphold our values for every story published.