Photo Gallery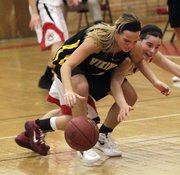 LHS girls vs. SM West
When players and coaches from Lawrence High's girls basketball team one day look back on their 2011-12 season, Monday's home game against Shawnee Mission West will be one they go out of their way to forget.
It was a burn-the-tape — heck, burn-this-after-reading — kind of night.
The Lions had more turnovers (23) than field-goal attempts (22) and lost, 41-25, to the Vikings.
LHS coach Nick Wood said those numbers were hard to fathom, and a lack of composure led to his team's trials against SMW (5-9). The Lions (6-9) didn't value the basketball, Wood said, and instead played hurried.
"It looked to me like every single time we had the ball on offense, it looked like there were 10 seconds to go in the game, we were down by one, and we were freaking out because nobody knew what to do," the coach said after his team went 10-for-22 from the floor.
The Lions went just 5-for-11 in the first half, when they had 14 turnovers, and trailed 19-12 after two quarters. They didn't score their first basket until 1:45 was left in the first quarter and Anna Wright hit a three-pointer to cut West's lead to 6-3.
Senior Bri Anglin hit a baseline jumper in the final seconds of the first quarter, and Wright even drilled a three-pointer on the opening possession of the second quarter to tie the game at 8, but that was as close as Lawrence would get as turnovers and long, grinding possessions became the norm.
"We just didn't settle in and run our stuff. It's frustrating to see," Wood said. "We did not execute at all."
The performance was a far cry from how LHS had played just six days before in a victory at Leavenworth. Junior Monica Howard said the team's mental focus was a problem versus the Vikings.
"We weren't taking care of the ball. We were just handing it to them," Howard said. "We didn't seem to care like every possession mattered."
Lawrence is 0-2 since both Emma Kelly and Krista Costa have been out because of knee injuries, but Wood said at some point the Lions have to get past it.
"It's not an excuse that we don't have two of our guards anymore," he said. "This is who we are."
In the third quarter, LHS played its best stretch of basketball, with just two turnovers and three field goals — Kionna Coleman scored twice in the paint, Bri Anderson got a hoop inside and both Coleman and Marissa Pope chipped in a free throw.
In that same stretch, though, SMW sophomore forward Marleah Campbell scored eight of her game-high 12 points, allowing the Vikings to extend their lead to 30-20 entering the fourth quarter.
Howard banked in a jumper at the six-minute mark in the fourth, and West's lead was down to eight, but it turned out to be one of just two Lawrence field goals in the quarter, as LHS turned the ball over seven times in the final eight minutes, and SMW closed on an 11-3 run.
For Wood, the loss was maddening.
"It wasn't necessarily anything they (the Vikings) were doing to us," the coach said. "We're our own worst enemy."
In the next few days, he added, the Lions will have to get past the ugly setback and fix their problems.
"Our job is to keep fighting," he said, "and figure it out."
At 5:30 p.m. Friday, Lawrence will play host to Olathe North.
Copyright 2018 The Lawrence Journal-World. All rights reserved. This material may not be published, broadcast, rewritten or redistributed. We strive to uphold our values for every story published.