A Lawrence Parks and Recreation maintenance facility has been destroyed by an early-morning fire near 11th and Haskell, City Manager David Corliss has confirmed.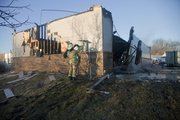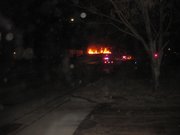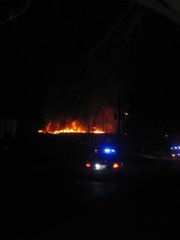 Crews responded to a two-alarm fire at 5 a.m. on Monday at 1141 Haskell.
"The building appears to be a total loss," Corliss said. "We'll be going through the process to try to salvage any tools, but I can't imagine there is anything else that can be saved."
As of 8 a.m., crews were still blocking traffic near the 11th and Haskell intersection.
The building is just north of the city's public works garage, which was not damaged in the fire. Corliss said the building was unoccupied at the time of the fire, and that there were no injuries to report.
Corliss said one city vehicle was in the building and was destroyed.
The building serves as the headquarters for the Parks and Recreation's building maintenance crew, which maintains recreation centers and other facilities. Corliss said parks and recreation services will not be impacted in a manner noticeable to the public.
"But there will be some substantial inconvenience for parks and recreation employees," Corliss said. "It was a significant part of their operations."
Corliss said the building is covered by insurance, but the city did not have replacement insurance on the vehicle.
"That is just something we'll have to deal with as part of the budget process," Corliss said.
A dollar estimate on the total losses from the fire is not yet available. Corliss also said the cause of the fire remains under investigation by the city's fire department.
Copyright 2018 The Lawrence Journal-World. All rights reserved. This material may not be published, broadcast, rewritten or redistributed. We strive to uphold our values for every story published.