Olathe — Free State High's boys swimming team had its sights set on third place at the Sunflower League Championships Saturday at Mission Trail Middle School.
The Firebirds came eight points shy of attaining that goal, but there was an appealing consolation prize waiting for them at the end of the two-day meet. The FSHS 400-yard freestyle relay team of Canaan Campbell, Connor Munk, Nick Becker and Ben Sloan closed the championships with a league title.
Finishing fourth in the team standings — behind league champ Shawnee Mission East, runner-up Olathe East and third-place Olathe Northwest — didn't seem quite so bad after that.
Photo Gallery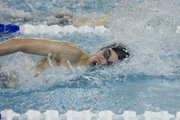 Sunflower League swimming and diving championships
Said Free State coach Annette McDonald: "That made it OK. That made it all worth it."
The final event lacked much drama, as Free State led from start to finish. That was fine with Sloan and his teammates.
"The goal going into it was just to get out as far as we could and maintain that," Sloan said. "So we did that very well."
The 400 free relay quickly became the highlight of the weekend for FSHS, Campbell said, because the swimmers raced in the lane next to their friends and rivals from Lawrence High (who finished third in the race and sixth in the team standings) and beat O-East by more than two seconds.
"It's definitely a good way to end the meet," Campbell said. "It was good to end on that high note."
The Lions didn't enjoy that luxury, but senior Zach Andregg made sure LHS went home with some Sunflower League hardware. Andregg captured league titles in both the 100 free and 200 free. Not that doing so was his main focus.
"I wasn't really concerned with places, just times and how they compare with everybody else's in other leagues," Andregg said, thinking ahead to state, which is now less than two weeks away.
Lawrence's other top performances came in the 200 and 400 free relays, in which Adam Edmonds, Dylan Orth, Reid Hildenbrand and Andregg took third place.
Andregg wasn't the only city swimmer to win an individual league crown, either. Sloan won the 100 fly with a time of 51.3 seconds a day after setting Sunflower League and FSHS records in the prelims with a time of 51.11.
McDonald described Sloan's record time as "very special" and was amazed with the junior's consistency after he nearly matched the record in the finals.
"He wanted to break it again, but there was nobody to race," the coach said after Sloan won the 100 fly by more than 3.5 seconds. "He was just racing the clock."
Sloan also picked up a second-place finish in the 200 IM and set a school record with a time of 1:56.84. He felt pretty good about the finals, calling it an exciting day.
"It helped the team out a lot, so that was good, too," he said.
There was plenty of success to go around for Free State in the finals. Campbell took second in the 500 free (finishing two-tenths of a second behind Shawnee Mission East's Zack Holbrook) and third in the 200 free. Munk placed third in the 100 back and sixth in the 200 free, and Kyle Yoder was fifth in the 100 breast. Plus, two FSHS divers, Dan Krieger and Austin Neidow, advanced out of the prelims Saturday morning to secure their spots among the top 12 divers in the league. Krieger, a junior, placed eighth, and Neidow, a senior, was 12th.
Said McDonald: "I'm really proud of what all the guys did."
Copyright 2018 The Lawrence Journal-World. All rights reserved. This material may not be published, broadcast, rewritten or redistributed. We strive to uphold our values for every story published.