Photo Gallery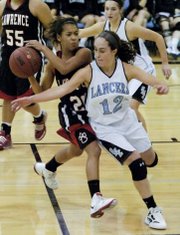 LHS girls vs. SM East
Prairie Village — Down in the dumps without a couple of its regular rotation players, low spirits contributed to a sluggish start for Lawrence High's girls basketball team.
The Lions found out earlier in the week injured juniors Emma Kelly and Krista Costa could be out for the season, and the melancholy continued with a 51-36 road loss in their absence.
Both Kelly and Costa went down with knee injuries recently, and their coach, Nick Wood, wondered if that bad news had a hangover effect. That was the only thing he could figure out after the Lancers' dominant first half set them up for a 15-point win.
"Maybe we were feeling sorry for ourselves, because we lost a couple players," Wood guessed.
The LHS coach told the players on his suddenly depleted roster that SME (8-7) wouldn't feel sorry for the Lions (6-8), and that certainly proved true. The Lancers scored field goals on their first five possessions and took an 11-2 lead. With SM East senior guard Shannon McGinley scoring 11 first-quarter points that helped the Lancers take a 17-9 lead, LHS found itself trailing from the get-go.
Then severe struggles in the second quarter made things even worse for the Lions. Lawrence missed its first six shots and turned the ball over four times before scoring its lone basket of the quarter when Anna Wright hit a runner off the glass with 3:06 to go in the half. That put a stop to a 9-0 SME run.
By the end of the second quarter, though, LHS had missed four more shots and turned the ball over three more times, and East had gone on a 6-0 run to take a 32-11 lead into the break.
"The entire first half, our energy level wasn't nearly where it needed to be," Wood said.
It wasn't until the third quarter that the Lions finally broke double digits in a period. Lawrence outscored SME, 16-15, in the third, with the help of three three-pointers by Monica Howard, buckets in the paint from Kionna Coleman and Mutiyat Hameed, a jumper from the top of the key by Bri Anderson and a Hameed free throw.
"I think in the second half we kind of settled down, and then we were fine," Wood said.
The first-half hole, however, was far too large for LHS to claw its way out of, and with a 10-player rotation now down to eight, the Lions are trying to figure out who they are in the first week of February. That scenario, Wood said, is far from ideal.
The coach hoped the unproductive first half was a case of the players getting used to the new lineup.
"That's the first time they've had to play as a group, and those girls were asked to do different things than they were two or three games ago," Wood said. "So it's gonna take us, unfortunately, a little bit to kind of figure that out."
Coleman led Lawrence with 11 points. Howard scored 10 and grabbed nine rebounds, while Hameed contributed seven points off the bench in the second half.
At 7 p.m. Monday, LHS will play host to Shawnee Mission West.
Copyright 2017 The Lawrence Journal-World. All rights reserved. This material may not be published, broadcast, rewritten or redistributed. We strive to uphold our values for every story published.