Photo Gallery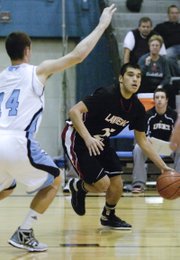 LHS boys vs. SM East
Prairie Village — Just when Lawrence High's boys basketball season seemed to be on a successful path, the Lions hit a detour Friday night at Shawnee Mission East.
After going 3-1 against top-10 teams in its previous four games, LHS dropped a road game, 58-52, to the unranked Lancers.
Given the Lions' recent run of success, coach Mike Lewis couldn't help but feel flummoxed.
"It was a dud," Lewis said of the loss. "Our guys just weren't tough enough in a number of different ways. We let things get to us, we were distracted, and we probably, in hindsight, could've played more aggressively the whole game."
Though Lawrence (8-6) struggled to score points for long stretches in the first half, an energetic outburst late in the fourth quarter nearly allowed it to pull off a substantial comeback.
SME (8-6) had built a 12-point lead midway through the fourth before the Lions changed their offensive personality and took a more threatening approach. With the help of some back-court pressure, Lawrence started forcing turnovers and finding easier shots.
Senior Logan Henrichs picked off a Lancers pass out of the press and took it to the hoop for a layup to get the surge going with just less that three minutes to go. Junior sub Jake Mosiman then drained two three-pointers in the next minute, the second coming after junior guard Shane Willoughby secured a critical offensive rebound.
After another offensive rebound and put-back by Anthony Buffalomeat and a drive to the basket by Willoughby, Lawrence was down just 51-47 with a minute to play.
Said Henrichs: "I don't think we even realized we were so close. We kind of felt down the whole game."
After the Lancers hit one of two free-throw attempts, which happened six times in the fourth quarter, senior Troy Willoughby slashed to the paint for a layup, and the Lions trailed 52-49 with 44 seconds remaining.
Lewis said the furious final minutes from LHS were a direct result of playing with a different mind-set.
"Sometimes when you're down like that, you play a lot looser because you're down and you don't have anything to lose," the coach said.
The Lancers hit three more free throws before Lawrence scored its final points of the night on a three-pointer by Henrichs, who finished with 13 points and seven rebounds, with 13 seconds on the clock. The senior's pull-up jumper from long range got Lawrence back within three, but SME junior Connor McGannon made one free throw after getting fouled in the backcourt to make it a two-possession game.
LHS senior KJ Pritchard was able to draw a foul on a shot attempt from behind the arc with 3.6 ticks left on the clock, but he missed all three of his free-throw tries.
The late revival in Lawrence's play, Lewis said, was an example of how the team should've been playing earlier in the game.
"It just wasn't quite good enough," he said of the rally.
Mosiman was the only other Lion in double figures. He led Lawrence with 14 points off the bench and went 4-for-8 from three-point range.
The Lions never had much of an answer for Shawnee Mission East junior Zach Schneider, who led all scorers with 24 points.
At 7 p.m. Tuesday, LHS will play Shawnee Mission West in the Lions' first home game since Jan. 10.
Copyright 2018 The Lawrence Journal-World. All rights reserved. This material may not be published, broadcast, rewritten or redistributed. We strive to uphold our values for every story published.