The first time Lawrence High track coach Jack Hood met Blake Hocking, an eighth-grader at the time, the young thrower told the Lions coach he wanted to set the school record in the shot put.
"Good luck," Hood thought to himself.
That was four years, roughly three inches and 40-plus pounds ago for Hocking. And a lifetime ago in the thrower's seemingly non-stop development.
Hood couldn't help but think back on that meeting Wednesday afternoon at the LHS library, where he watched his star pupil, now a senior, sign a letter of intent with University of Missouri-Kansas City's track and field program.
The skepticism on the part of the LHS coach upon meeting Hocking was merited. Two-time Olympic medalist Bill Nieder held the school record when Hocking made his goal known. "In my mind Bill Nieder's a god," Hood said.
Deification might not be in Hocking's immediate future, but he did complete his mission and break Nieder's 59-year-old mark with a throw of 62 feet, 9 inches as a junior.
Now Hocking has another number in mind for his senior year of shot putting: 70 feet.
With his pedigree and determination, surely there is a reason he will be staying nearby, and competing at UMKC, right?
Of course there is. Hocking wants to be a dentist. That's his dream, and UMKC gave him that option. Clearly a goal-oriented individual, Hocking said the idea of a career in dentistry seemed pretty obvious after one particular visit.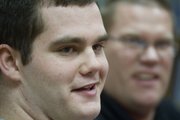 "I went to my dentist about three years ago, and he has a really nice convertible," Hocking deadpanned, showing off his love for one-liners. "He works four days a week, and it seems like a great life."
If he attacks his career path with the same vigor he has displayed while becoming a better thrower, Hocking is bound for success. Hood said the 6-foot-3, 260-pound future Kangaroo has spent uncountable hours in the gym lifting weights, and the mileage he and his family put in traveling to different camps and AAU track events during the past few summers were a critical part of his development.
The hardest part of getting to this point, Hocking said, was dedicating so much time to his craft and building his strength. Weekends aren't about cutting loose — "I'm not the biggest partier," he said. Free time, for Hocking, is about getting results.
Before his junior year, Hocking went to Iron Wood Thrower Development Camp in Washington. There, he made Division I connections and learned the spin technique that led to him winning the AAU Nationals for sophomores and breaking Lawrence's shotput record.
"It's just exploded since then," Hocking said.
So, apparently, has his popularity. A crowd of friends, family and well-wishers sang "Happy Birthday" to Hock ing, who happened to turn 18 Wednesday, after he signed with UMKC.
Hocking said he was surprised by the number of people who crammed into the library for the occasion.
"I've touched the lives of a lot of people, I guess," he said sarcastically.
That statement would actually be true in regards to Hood, who admitted he would be sad to see Hocking go. Still, the coach was wholeheartedly proud of the thrower who once set what seemed like an unattainable goal.
"He was willing to do the work and pay the price to get that," Hood said.
Copyright 2018 The Lawrence Journal-World. All rights reserved. This material may not be published, broadcast, rewritten or redistributed. We strive to uphold our values for every story published.