Free State High's wrestling team wasn't going to win a beauty contest for its performance Thursday night at the Free State Firebird Duals.
It was an ugly night and not much fun, coach Mike Gillman said, after FSHS went 0-3 in duals, with losses of 69-18 to Manhattan, 49-28 to Topeka Washburn Rural and 53-18 to Blue Valley Northwest.
"It's not pretty to see those things," Gillman admitted.
Only two Free State wrestlers — junior 182-pounder Spencer Wilson (3-0) and sophomore 126-pounder Maurice Jacobs (2-1) — posted winning records at the duals. Gillman said, overall, the Firebirds need to do a better job of showing toughness and refusing to give in.
"I thought a couple of kids quit a little bit tonight," the coach said.
Fortunately for Free State, that wasn't the case for all of its wrestlers.
"That's kind of the soul of our team, the kids that are just really tough," Gillman said.
No one showed more backbone at the FSHS home event than Jacobs. The night before, at practice, Jacobs bit through his lip after tripping his opponent and falling face-first against his fallen partner's knee. The sophomore wrestled with 10 stitches in his lip Thursday, and it took some prep work to get the injury match-ready. Before competing, Jacobs had some iodine and gauze placed on the wound and then had some green wrap applied to keep everything in place.
"I had to breathe through my nose," Jacobs said. "At least I wasn't sick (with congestion)."
Though muzzled, Jacobs found a way to win two of his three matches.
"I just wanted to get it over with," he said with a chuckle.
Photo Gallery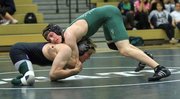 Free State wrestling Firebird Duals
Wilson wasn't surprised to see the 126-pounder, who also dabbles in boxing, perform under less-than-ideal circumstances.
"It doesn't bother him at all," Wilson said. "He's one of the toughest kids in the room."
The grit of a couple of Free State freshmen impressed Gillman, too. The Firebirds' 113-pounder, Sebastian Joseph, went 1-2 at the duals.
"He wrestled some tough kids, and he just didn't give up," the coach said.
Gillman also was impressed by Isaac March (120 pounds). Although the freshman went 0-3, March, who usually competes for the junior varsity, found out Wednesday he would be part of the varsity lineup.
"He really fought his butt off," Gillman said.
As usual, Wilson stood out for Free State. One of his three victories came against Manhattan senior Trey Campbell, ranked No. 3 in Class 6A. Gillman said Wilson, ranked No. 2, has a unique ability to take control on the mat.
"He's just so tough on top and so strong, you just can't get away once he gets ahold of you," the coach said.
The highlight of the night for Wilson, though, came in his first match, when he executed a move he "made up" this past summer.
"You just get a front headlock, you reach under the far ankle and you throw them over like a fireman's (carry). They just land on their back," Wilson explained, adding that the move finishes with him on top for a pin.
Free State had five wrestlers win one match at the duals: Joseph, senior Andrew McLees (132), sophomore Colton Steele (138), junior Ben Soukup (152) and sophomore Stan Skwarlo (160).
Manhattan, ranked No. 3 in 6A, went 3-0 in duals. Washburn Rural was 2-1 and BVNW went 1-2.
The Firebirds are off until the Sunflower League Invitational on Feb. 11 at Shawnee Mission Northwest.
Copyright 2018 The Lawrence Journal-World. All rights reserved. This material may not be published, broadcast, rewritten or redistributed. We strive to uphold our values for every story published.