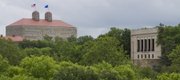 Subscribe to the email edition of Heard on the Hill and we'll deliver you the latest KU news and notes every weekday at noon.
Your daily dose of news, notes and links from around Kansas University.
• I'm working on a story that will pull together some of President Obama's proposals for higher education he outlined last week during his State of the Union speech and how KU feels about it.
The New York Times offered some of the best wrap-ups of the president's proposals.
He's looking for a $1 billion "Race to the Top" kind of contest, similar to the proposal for secondary and elementary education. The program would reward states that keep college costs down.
Obama is also looking for colleges to have to offer a "shopping sheet," with information about financial aid packages (KU already is moving in that direction) but also includes data about post-graduate earning and employment information.
That's a little harder to find. There are other proposals, too.
Of course, with a Republican Congress standing in the way, it's hard to say that any of these proposals will be coming down for sure.
It'll be interesting to see what comes of it and how some of the powers that be at KU feel about it. Check back later for more.
• The KU debate squad is, once again, positioning itself for success. The team is ranked second in the nation in the latest Policy Debate Coaches Poll.
KU trails only Northwestern. The rest of the top 10, in order, are Georgetown, Loyola Marymount, Gonzaga, Harvard, Oklahoma, Michigan, California (Berkeley) and Baylor, reports Scott Harris, KU debate coach.
He told me freshman Amanda Gress and junior Melanie Campbell went 10-1 and took third at a tournament at the University of Missouri-Kansas City last weekend. Senior brothers Patrick and Sean Kennedy went 10-1 and took second at Cal State Fullerton on Jan. 7-9. Also, seniors Mark Wilkins and Matthew Petersen went 8-2 and took third at the University of Southern California on Jan. 3-5.
The strong finishes took KU from sixth to second in the rankings.
The resolution this year focuses on foreign policy:
"Resolved: The United States Federal Government should substantially increase its democracy assistance to one or more of he following; Egypt, Libya, Syria, Tunisia, Yemen."
KU's debate team has enjoyed quite a bit of historical success and brought home a national title in 2009, to add to its four other National Debate Tournament championships.
I always like to remind folks that debate in college is a little different than you might imagine. High school debaters are even starting to mimic the rapid rate of speed that many college debaters use during their rounds.
Wired Magazine wrote a bit about this in "High School Debate at 350 wpm." (It's got a video, too, at that link).
But it's still a great intellectual exercise, and the people who do it devote quite a bit of time of research and energy in it.
• Documentary filmmaker Gary Hustwit will be coming to KU to discuss three of his movies. Including what's probably his most famous film, "Helvetica," which focuses on the lovely font.
"Helvetica," his debut film, will be shown Feb. 6.
"Objectified," a look at industrial and product design, is scheduled for March 6. And "Urbanized," which focuses on the creation of cities, is set for April 9. Hustwit will be in town for the last session for a question and answer session.
All the screenings are scheduled for 7 p.m. at Woodruff Auditorium in the Kansas Union.
• I take tips for Heard on the Hill in a whole host of different fonts. Just make sure they get to ahyland@ljworld.com.
Copyright 2018 The Lawrence Journal-World. All rights reserved. This material may not be published, broadcast, rewritten or redistributed. We strive to uphold our values for every story published.