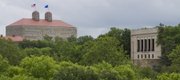 Subscribe to the email edition of Heard on the Hill and we'll deliver you the latest KU news and notes every weekday at noon.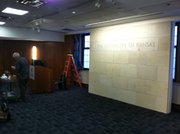 Your daily dose of news, notes and links from around Kansas University.
• Wednesday KU's Student Senate will unveil a newly renovated Alderson Auditorium on the fourth floor of the Kansas Union.
The new space will serve as a venue for all kinds of functions, including serving as the official Student Senate chambers.
The $350,000 project was paid for using funds collected from student fees.
I trudged down there yesterday so I could shoot a quick photo. The first thing I noticed is that all those old red chairs are gone.
Lisa Kring, event services director for the KU Memorial Unions, told me the space would have "flexible seating," meaning it could accommodate classroom seating, theater-style seating or even round tables.
"Unfortunately, 'flexible' does not mean recliners, massage chairs or the like," Kring said.
There's also a limestone backdrop for the room with "The University of Kansas" inscribed in it.
My awesome photography skills captured some workers making some last-minute changes before the senate meets there Wednesday.
• The Dole Institute announced more of its spring programs this week.
We've got a new series featuring experts from the military college at Fort Leavenworth. That'll be at 3 p.m. on the third Thursday of the month at the Dole Institute from February until November, starting Feb. 16.
U.S. Rep. Emanuel Cleaver II, D-Mo., is scheduled to speak Feb. 22, and John Yoo, who advised George W. Bush on legal issues related to the war on terror, will speak March 27.
You can see all the details of these events, including times, and more at doleinstitute.org.
• And, finally, since we brought you "We Are Mizzou" yesterday, here's this lovely response from some KU fans.
• If I ever make a "We Are Heard on the Hill" video, you're guaranteed a cameo if you send me a tip at ahyland@ljworld.com.
Copyright 2018 The Lawrence Journal-World. All rights reserved. This material may not be published, broadcast, rewritten or redistributed. We strive to uphold our values for every story published.