Lawrence-Douglas County Fire Medical responded to a fire in the alley near Eighth and Massachusetts streets about midnight Sunday.
The fire was located on exterior rear walls of at least one building immediately north of Teller's Restaurant and Bar, 746 Massachusetts St., and was extinguished by 12:15 a.m. Monday.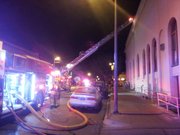 Traffic on Eighth Street was blocked while firefighters used a truck ladder to check the roof of Teller's restaurant. Fire crews were leaving the scene at 12:30 a.m.
The cause of the fire, and the extent of damage, is being investigated.
Copyright 2018 The Lawrence Journal-World. All rights reserved. This material may not be published, broadcast, rewritten or redistributed. We strive to uphold our values for every story published.