Photo Gallery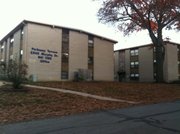 Suspected arson cases
A look at some of the apartment buildings targeted in a string of recent suspected arson cases in Lawrence.
The Bureau of Alcohol, Tobacco, Firearms and Explosives is now offering a $7,500 reward for information leading to the arrest and conviction of anyone involved in a string of suspected arsons, according to a news release issued Friday morning by Lawrence-Douglas County Fire Medical.
The reward increase, which had previously been $5,000, comes a day after another suspected arson case in south-central Lawrence.
Mark Bradford, chief of Lawrence-Douglas County Fire Medical, said Friday that an early Thursday morning trash can fire in the 2500 block of Redbud Lane at the Park Plaza South apartment complex, is the latest suspected arson.
Police and fire crews responded to the call about 12:20 a.m. Thursday, when a caller reported seeing a man put something in the trash can, which then burned. When police found it, the trash can was smoldering.
The fire was located just a few blocks from a string of suspected arsons that have been reported in the area.
Thursday's fire is one of 19 suspected arsons since Oct. 19 in a several block area in Lawrence, according to Friday's news release.
Most of the fires have been close to occupied apartment buildings, but have been small and easily extinguished, and no injuries have been reported.
Bradford also confirmed that a Dec. 22 fire in the 2400 block of Alabama Street was also consistent with the other suspected arson.
Anyone with information is asked to contact Lawrence-Douglas County Fire Medical at 785-830-7065, the Lawrence Police Department at 785-830-7430 or the TIPS Hotline at 785-843-TIPS (8477).
Copyright 2018 The Lawrence Journal-World. All rights reserved. This material may not be published, broadcast, rewritten or redistributed. We strive to uphold our values for every story published.