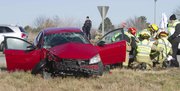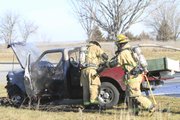 Two people were taken to area hospitals with injuries after an accident on Kansas Highway 10 near Lawrence's eastern boundary Wednesday morning.
Neither person's injuries were life-threatening. They were taken to area hospitals by Lawrence-Douglas County Fire Medical ambulances.
The accident, which occurred at about 11 a.m. Wednesday, also resulted in a fire in one of the vehicles involved, a pickup truck. No one was inside the truck at the time of the fire. Crews had the fire under control by about 11:15 a.m.
Copyright 2017 The Lawrence Journal-World. All rights reserved. This material may not be published, broadcast, rewritten or redistributed. We strive to uphold our values for every story published.