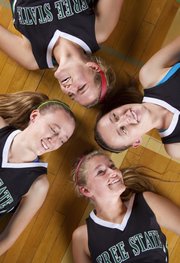 Anyone walking into a gymnasium to watch a Free State High girls basketball game should be warned: It's common to suffer from double vision — twice over.
Spectators aren't necessarily in need of spectacles, though. They will find the Firebirds have not one but two sets of twins — Abbey and Chelsea Casady and Ariana and Summer Frantz.
It's toughest for the uninitiated to distinguish between the Casadys or tell which Frantz is which when their shooting shirts cover the numbers on their jerseys. Abbey and Chelsea both stand about 5-foot-9. But Abbey's hair is longer, and Chelsea's shiny-new gray adidas differentiate her from Abbey and her now raggedy Nikes, complete with non-matching neon pink and yellow laces, which she has been wearing since her sophomore year. The Frantzes don't own as many immediate tells. Summer has about a quarter-inch on her 5-5 sister Ariana, and both wear the same black adidas high-tops they got for their summer basketball team.
Even the sisters' personalities are similar. The Casadys are outgoing, while the Frantzes are more reserved.
Because all four twins are seniors, they have been around the FSHS program long enough for their teammates and coaches to know who is who among the identical siblings. Sure, occasionally someone will throw a pass to the wrong twin in a drill at practice, but that's the extent of the confusion.
Off the floor, Summer said, it's another story.
"I don't think we're that tough to tell apart," she said of her and Ariana, "but I get called the wrong name all the time, so we must be."
In fact, none of the sisters think they're especially similar in appearance to their respective twin. Ask any of them if the Casadys or Frantzes share the most physical qualities, and each will point to the other set of sisters as closer duplicates.
Ariana said her face and Summer's face "don't look anything alike" to people who have known them for years, and the same goes for the Casadys.
"They say it takes awhile," she added.
Free State coach Bryan Duncan has known the sisters since they were in junior high. It took him two years to tell the Casadys apart and a year to uncouple the Frantzes. But even Duncan has to remind himself sometimes to think about each player as an individual.
"You have a tendency as coaches to lump them together as the twins," he said.
That problem doesn't come up as often with the Casadys. Both start, but Abbey said "it's not a secret" that Chelsea is far more likely to score in double figures.
"She's more of the all-around player, and I'm more of the specialty player," Abbey said.
Added Chelsea: "How we play is different. Soccer (which they both play for FSHS) is a little harder, because we're more evenly matched, but with basketball it's more obvious."
Chelsea might jump higher and make a better percentage of her jumpers than her sister, but Duncan said Abbey is one of the toughest defenders he has coached at Free State.
"All she's done is start for three years and probably play more minutes than anyone we've had," he said of Abbey.
Both Frantz sisters come off the bench for the Firebirds (4-1), and their games at times can be indistinguishable. At a recent practice, two groups of players lined up on opposite baselines for a drill called buzzer-beaters. Ariana and Summer stepped to the front of each line on either end of the floor. Each had three seconds and two dribbles to go as far as she could and launch a shot before the buzzer sounded. On the whistle, each Frantz took off and got about five feet from mid-court before heaving up simultaneous shots. Ariana's hit the glass, Summer's rattled around the rim on the opposite goal, and both fell through the hoop at the same time.
Ariana said their games are similar, and it's their job to hustle, take care of the basketball and make smart decisions. Summer agreed they are "pretty much the same," and they try to provide whatever FSHS needs.
Duncan said it can be challenging coaching a duo with matching strengths.
"In some ways I think it hurts both of them, because you typically would have one kid who would fill that role," he said.
But Free State's staff is looking for ways to turn that into an advantage, Duncan said, by bringing the Frantzes in during dead-ball situations for set plays that allow them to do what they do best, which is shoot the ball.
As much as each twin enjoys playing on the same team as her sister, one characteristic they all have is the ability to get under their twin's skin.
"It's easier to point out something that Chelsea's doing than somebody else on the team," Abbey said.
It all comes out of love, though, and the sisters have no complaints about having twins as teammates. If only all interactions came that easily. Chelsea said a shared pet peeve is when strangers see one of the sister pairs and ask if they're twins.
"Well, obviously," Chelsea said. "I mean, we look alike."
Copyright 2018 The Lawrence Journal-World. All rights reserved. This material may not be published, broadcast, rewritten or redistributed. We strive to uphold our values for every story published.