In The Jungle, the anything-but-peaceful jungle, the Lions did anything but sleep Friday night in yet another closely contested, riveting city rivalry boys basketball game.
Photo Gallery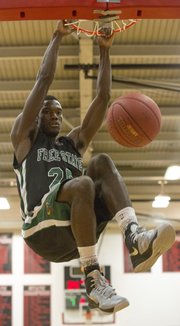 Free State boys basketball at Lawrence High
Lawrence High has neither the size nor the depth to scale back the effort for even a short stretch, so the Lions bring 32 minutes of aggressive effort. They know most of the rebounds near the rim will go the other way, so they make sure they get nearly all the ones near the floor.
Not once could a Lions player be found looking into the stands, drowning in self-pity, begging a parent to toss a life preserver of emotional support because a teammate didn't pass him the ball or a referee didn't give him a call. They don't have time for that. They're too mature. Besides, they know the other four guys on the floor have their backs, so why seek to import vibes from outside the circle?
Just three players scored for the Lions in a 55-49 victory against cross-town rival Free State, in Lawrence High's old-style, double-deck gymnasium known as The Jungle. That lack of scoring balance might mislead those who saw only the box score and not the game into thinking this was not a team effort. On the contrary, everyone played his role.
Lawrence High's point guard, Justin Roberts, filled his role by playing authoritative traffic cop, feeling so well where the ball should go and when it should get there and then delivering it on target, on time. Sometimes he felt the ball should stay in his hands to put pressure on the defense with relentless drives. That worked well too. On a basketball court the 5-foot-9 Roberts looks about as much like a freshman as actress Jane Seymour looks like a senior. Freshmen play tentatively. Roberts plays boldly. Freshmen retreat. Roberts attacks. Freshmen shy from contact. Roberts seeks it out and doesn't whine when he gets hammered and the whistle never comes. All but one of Roberts' 18 points came in the first and third quarters.
Senior Jake Mosiman, one cool customer with one hot hand, played his role to perfection as well. His role is to make the defense pay for giving him room to get off a shot, not that he needs much. Whenever it seemed as if Free State's size was about to take control of the game, Mosiman clipped off another long one that settled softly into the net. His eight three-pointers on the way to 30 points drew the biggest roars from The Jungle. What a beautiful jumper the kid has. He never rushes, always squares himself to the hoop, releases it at the apex of his jump and waves goodbye to the basketball with textbook follow-through.
Anthony Bonner attempted four free throws in the final minutes and made them all. Drake Hofer, a football player playing basketball, does everything he can to contribute from the center position, even though he's a half-a-foot shorter than his predecessor and has neither footwork anywhere near as fancy nor a shooting touch near as soft. Hofer pursues the basketball like a greyhound does a mechanical rabbit. Don't look at a football player playing basketball and bet against him. He'll find a way. Even though his best shot at playing in college is on the football field, he doesn't let that stop him from playing basketball. He loves going to battle with teammates and takes great pride in wearing "LIONS" across his chest. Hofer didn't score a point and took just one shot, yet without him the Lions would not have won the game.
At 6-4, junior Jacob Seratte didn't score, but did throw a nice bounce pass late in the game to Mosiman for an assist. Seratte gave the team good minutes and his contributions will increase as his confidence rises. He's not the most talented big man in the school, but he is the most talented one on the team, which is all that matters.
"I'm really proud of these guys," LHS coach Mike Lewis said. "I look forward to coming to practice every day. It makes coaching high school basketball fun."
Roberts, Mosiman and Bonner will do most of the team's scoring. In fact, on this night the trio did all of the scoring. Lewis refers to the rest of the team as "the anchors."
There will be nights the lack of size can't be overcome, but not as many nights as most would guess by looking at the heights listed on the roster. They bring big effort.
Copyright 2018 The Lawrence Journal-World. All rights reserved. This material may not be published, broadcast, rewritten or redistributed. We strive to uphold our values for every story published.