According to City Showdown math, three is greater than nine.
Photo Gallery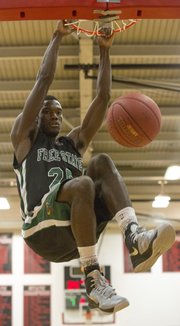 Free State boys basketball at Lawrence High
Fans, teams support 'Zay'
It was impossible to look in any direction at Friday night's city rivalry basketball game without seeing a sign of support for Lawrence High junior basketball player Isaiah "Zay" Boldridge, diagnosed recently with Hodgkin's lymphoma.
Both coaches wore "Pray for Zay" T-shirts throughout the game and players from both teams used the T-shirts in place of their warmups. In the stands, students wore purple shirts, the color of Hodgkin's awareness.
Eight shirtless boys from LHS spelled out Pray4Zay.
Boldridge, who had spent the previous nine days in the hospital, watched the game from behind the LHS bench and received standing ovations from fans rooting for both sides when he walked onto center court and was announced to the crowd first during a timeout during the girls game and later at halftime of the boys game.
After LHS defeated Free State, 55-49, and students from the victorious side poured onto the court, Boldridge joined the celebration.
Just three players — Jake Mosiman, Justin Roberts and Anthony Bonner — scored for Lawrence High's boys basketball team Friday night against rival Free State. But the Firebirds' balanced attack, with nine different scorers, didn't hold up as Mosiman's eight three-pointers carried Lawrence to a 55-49 home win in the raucous Jungle.
The LHS gymnasium exploded early in the first quarter, when senior guard Mosiman knocked down two straight three-point bombs to put the Lions ahead 8-2 and he added to the hysteria as the night went on, hitting eight of 11 from behind the arc and finishing with 30 points.
After helping Lawrence (4-1) end its December schedule on a high note, Mosiman said he had never been that hot in a high school game.
"Maybe in like three-on-three when I was 6 years old," he joked.
The 6-foot shooting star made six three-pointers in the first half alone before quieting down briefly in the third quarter with two points. But Mosiman found himself open from downtown again in the opening minutes of the fourth, and both Roberts and Drake Hofer found him for two more threes, allowing LHS to take a 46-41 lead — its biggest since the first quarter.
"The momentum of hitting shots like that really helped us a lot," Mosiman said after making 11 of his 17 field-goal tries and scoring 10 of his team's 15 fourth-quarter points.
"It's unexplainable," Mosiman said of how he felt every time he released the ball. "I've never (caught fire) like that."
When he played like a mortal in the third quarter, hitting just one of his three shots, freshman point guard Roberts took over for the Lions. He started looking for his own shot and scored nine of his 18 points. Roberts' three-pointer on a pass from Bonner with a minute to go put Lawrence up 40-39 entering the fourth.
Free State (2-3) still had a shot in the fourth quarter after sophomore Weston Hack cut the deficit to 51-47 with a free throw at the 1:13 mark. But after senior forward Cody Scott drew a charge on Roberts with 58 seconds left, Hofer stole the ball.
Roberts missed the front end of a one-and-one and Scott grabbed one of his seven boards allowing the Firebirds to call a timeout. FSHS got the ball inside to Scott, but his short jumper was defended well by LHS junior forward Jacob Seratte in the paint and the rebound went out of bounds, giving the ball back to Lawrence.
Bonner hit all four of his free throws in the final 12 seconds to finish with seven points and assure LHS of a rivalry-game victory — its third straight.
Afterward, Lions coach Mike Lewis said his team overall had a balanced approach, but Mosiman, Roberts and Bonner carried the offense.
"Everybody else had something positive that they did, whether it was a box out or a rebound or making the extra pass," Lewis said. "It just happened to land in Jake's lap quite a bit, which was a really good thing. He was on his own planet there for a while."
FSHS coach Chuck Law agreed, saying he hasn't seen many performances like Mosiman's. But he took the blame for not finding a way to cool off the man with the hot hand.
"They had a better game plan than we did," Law said. "They attacked our 1-3-1 (zone) very effectively and I was stubborn, stayed in it too long. We probably should have come out and played man-to-man earlier. We got out-coached and out-played."
The Firebirds out-scored their rivals 17-12 in the second quarter, when junior Khadre Lane had one of his two slam dunks and Scott jammed home another bucket. But they couldn't build on their slim 29-27 halftime lead with the Lions playing so well.
Said Lane: "They got hot, especially Jake, he got really hot and couldn't miss."
Cole Moreano and Scott led Free State with 11 points each. Lane had 10 points and six rebounds. Reshawn Caro scored all five of his points in the third quarter and Kyle McFarland chipped in four points off the bench.
The balance didn't matter much in the end, though. Law said he thought Free State's height advantage would give LHS problems but that wasn't the case.
"They beat our butts," Law said. "Plain and simple."
Copyright 2018 The Lawrence Journal-World. All rights reserved. This material may not be published, broadcast, rewritten or redistributed. We strive to uphold our values for every story published.