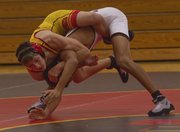 Lawrence High's wrestling team did not have much success during a 64-12 dual loss to top-ranked Garden City on Thursday night at LHS.
But not every No. 1 ranking was untouchable.
In the sixth match of the night, LHS freshman Alan Clothier out-dueled Garden City senior Anthony Gardner, 4-1, in a match-up of the top two ranked wrestlers in Class 6A's 170-pound weight class.
Clothier fell behind 1-0 after an early escape by Gardner but then closed the match with four unanswered points to pick up what he called the signature victory of his young career.
Clothier's first score came on a reverse with 15 seconds remaining in the second period. He padded his lead with another reverse with 43 seconds left in the match and, from there, calmly closed out the Lions' second individual victory of the night.
"I knew it was going to be tough," Clothier said. "So I just wanted to go with the flow of the match, keep working and try to get control when I could."
Although the scoreboard read in his favor throughout most of the match, Clothier said he did not feel completely comfortable until the end.
"When I got down to about 30 seconds and I had him down, that's when I felt I had it," he said.
LHS junior Garrett Girard kicked off the night with a 6-2 victory in the opening match, which gave the Lions a short-lived 3-0 team lead. Less than 20 minutes later, that lead had turned into a 28-3 deficit, but the early hole did nothing to change Lawrence's game plan.
"We knew it was gonna be interesting," LHS coach Patrick Naughton said. "And with a lot of guys out (with injuries), we just wanted to see what some of our younger guys could do. We had a couple of guys today who really stepped up, guys who the last thing they were doing was wrestling JV."
LHS heavyweight junior Alex Jones kept his stellar season going with a pin of Aaron Lozano at the 1:07 mark of the first period.
Copyright 2018 The Lawrence Journal-World. All rights reserved. This material may not be published, broadcast, rewritten or redistributed. We strive to uphold our values for every story published.