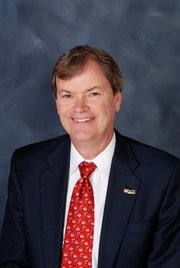 A Lawrence resident is set to become a vice chairman of the fifth largest commercial bank in the country and oversee all its branches, community and metropolitan banking operations.
U.S. Bancorp has announced that longtime Lawrence banker John Elmore will take over as the company's vice chairman of community banking and branch delivery on March 1.
In his new role, Elmore will oversee the company's branch bank network that stretches across nearly 800 communities in 24 states.
"It is a very interesting time to be in the banking industry, no doubt," Elmore said. "There are a lot of potential regulatory changes and economic challenges facing certain people, but I think there are a lot of good things about to happen as well."
Elmore's latest position — which will report directly to U.S. Bancorp's chairman, president and chief executive officer Richard Davis — continues a rise through the banking industry that began in Lawrence.
Elmore came to Lawrence in 1988 and served as president of First National Bank of Lawrence. He served as a bank president in his early 30s and was one of the youngest bank presidents in the country. As First National Bank of Lawrence was bought out by larger banking companies, Elmore rose through the ranks. Elmore currently is the executive vice president and head of community banking at Minneapolis-based U.S. Bancorp.
Elmore said he and his family will continue to make Lawrence their primary residence.
Copyright 2018 The Lawrence Journal-World. All rights reserved. This material may not be published, broadcast, rewritten or redistributed. We strive to uphold our values for every story published.