Participants from both sides of Friday night's city high school basketball rivalry game at Lawrence High School will do everything in their power to try to win, even though they all know it's not the most important battle touching their lives at the moment.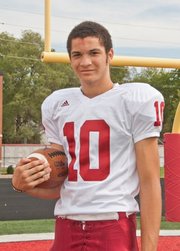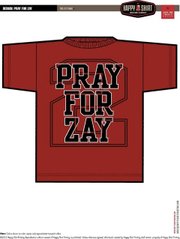 Players from teams had their worlds rocked last weekend when they learned that Lawrence High junior Isaiah "Zay" Boldridge, 17, had received a diagnosis of Hodgkin's lymphoma, a form of cancer with a high recovery found most often in teenagers and young adults.
Boldridge underwent biopsy surgery today, and his mother, Kalila Boldridge, said late this afternoon they were awaiting results that would determine the stage to which the disease had progressed.
Since news of the initial diagnosis broke, players, parents, teachers and coaches from both schools have teamed up to try to make the holidays as comfortable as possible for Boldridge's family in a variety of ways:
• With the help of Lori McSorley of Douglas County Visiting Nurses Association, a charitable bank account for donations to help defray the family's medical costs was established at Douglas County Bank.
• Carolyn Masinton, the parent in charge of the LHS basketball team's booster group, has been organizing ways to show support, including a donation table for those wishing to make contributions to the fund at Friday's game, scheduled for a 7 p.m. tipoff.
• Players from both teams will wear a "PRAY FOR ZAY" T-shirt designed by LHS students over their uniforms during pre-game warmups. Similar red T-shirts, which have Boldridge's No. 2 on the design, eventually will be made available to the public for purchase.
• A "Pray for Zay" Facebook account features photos of Boldridge in his hospital room.
• Both high schools' basketball teams have adopted the family (Zay, his mother, younger brother and younger sister) for Christmas, asking for wish lists.
Zay's mother said that after hearing Tuesday that Free State students and parents had joined the cause, she was "speechless."
"I'm in awe that so much support and so many people are pouring in to help," she said. "I can't thank people enough. I'm finding myself saying the same word over and over. Thank you. I can't give enough thank-yous."
Kalila said that they also were awaiting results to see whether her son also is suffering from histoplasmosis, a fungal infection that would necessitate antibiotic treatment that would delay chemotherapy treatments.
Boldridge, who had complained of tightness in the chest, played for the LHS football team and played in one basketball game this season before being sidelined.
LHS boys basketball coach Mike Lewis said during a discussion last week at practice about what nonbasketball issues various players were addressing, Boldridge turned the gym silent.
"Everybody was talking about going to take an algebra test or going to get help in another class, and Zay mentioned he had to go get a CT scan for his chest," Lewis said. "We all looked around the room at each other, thinking, 'That doesn't sound too good.' A couple of days later, we're all at KU Med Center."
After winning a close game Saturday in the Blue Valley Shootout, the coaches and players went to the hospital, not yet knowing any specifics of what ailed their friend.
"His grandma came out to the waiting room to talk to us all at once and explained what was going on," Lewis said. "There wasn't a dry eye in the place."
Then the players and coaches visited Boldridge in groups of four, all adhering to specific instructions.
"All the guys had to gather their emotions before going back to see him because he didn't need to see everyone being sad," Lewis said. "Everyone made sure they treated it as a normal time of just being one of the guys talking basketball. He was sitting back there with his video games and a box of pizza, just like it was a normal Saturday."
Boldridge received his first varsity letter last month at the Lawrence High football banquet. His mother had the letter sewn onto the jacket, and he wore the jacket for the first time today before heading in for surgery.
"His spirits are good most of the time, but when the kids are in school and he's here in the hospital, not as good," Kalila said. "He thinks I'm old and doesn't want to hang around with his mom all day, which is totally normal. But overall his spirits are pretty high. He has strong faith and we're going to beat this."
Lewis said he exchanged emails with Free State coach Chuck Law, who immediately was on board with the idea of both teams wearing the same warmups.
"Zay's got friends on both sides of town, and that was important for them to also show support," Lewis said. "That's really what it's all about. The rivalry and the game and sports become not a real big deal at all when it comes to somebody sitting in the hospital fighting cancer."
Copyright 2018 The Lawrence Journal-World. All rights reserved. This material may not be published, broadcast, rewritten or redistributed. We strive to uphold our values for every story published.