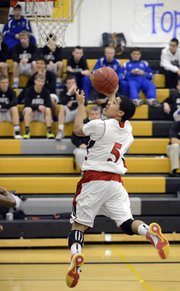 It happens to everyone who puts on a varsity uniform, that, "Welcome to high school, kid" moment. Justin Roberts' introduction was just a little more gruesome than most.
A freshman point guard for Lawrence High's boys basketball team, Roberts had been on the floor all of two minutes in his debut — the Lions' season opener at Junction City — when he saw an opportunity to make a play on defense. With the Bluejays pushing the ball hard in transition, the 5-foot-9 newcomer stood his ground in front of a forward with at least four or five inches on him in an attempt to draw a charge.
When the two collided, the offensive player's elbow smacked Roberts in the face. Immediately, the young Lion covered the right corner of his mouth with his hand. In the midst of making sure he still had all of his teeth, Roberts removed his hand to reveal a huge gash that had ripped open the right side of his mouth.
Bloodied and in need of medical attention, the frustrated freshman left the game and had to be taken to a hospital, where he received 20 stitches.
"I was really bummed out. I didn't understand why it happened, because this was my first varsity game," Roberts said. "I just need to be more careful next time."
The ordeal happened on the first Friday night of the season, and the following Monday Roberts showed up for practice ready to go.
Said LHS coach Mike Lewis: "He's a pretty tough kid."
It takes more than grit, though, to start at point guard as a freshman. Lewis didn't hand that spot to Roberts on a silver platter when he moved to Lawrence this past summer. The Lions' coach said Roberts earned his minutes through competition and had the intangibles, such as his feel for the game and emotional stability, that have already made him a solid addition to the program.
Senior LHS guard Jake Mosiman, the only player back from last season's rotation, rattled off some of the skills that make Roberts an impact player as a freshman: strength, quickness, defense and shooting ability.
"There's nothing he can't do," Mosiman said.
That proved true when Roberts returned to the lineup for Lawrence's 2-1, fifth-place showing at the Blue Valley Shootout this past weekend. He averaged 14.3 points and earned all-tournament honors.
Though new to the city basketball scene this season, Roberts is no stranger to Lawrence. His family lived here when his father, Norm, was an assistant men's basketball coach at Kansas University for the 2003-04 season. After that, the family moved to New York, where Norm coached St. John's for six seasons. Next came a one-year stint as a Florida assistant before Norm re-joined coach Bill Self's staff at KU this year.
Even though Justin moved away, he occasionally came back to Lawrence for basketball camps, so when he enrolled at LHS he already had long-standing friendships in place with new teammates Anthony Bonner and John Barbee, both sophomores.
"I always felt like I was at home when I came here," Roberts said. "I'm glad I came back."
So are the Lions (3-1), who will play host to Free State (2-2) for the City Showdown on Friday. The rivalry has already exceeded Roberts' expectations.
"Everybody's hyping it up," he said. "I'm definitely getting nervous for the game, but I'm excited to play."
Mosiman knows from experience what awaits Roberts. He couldn't believe how packed the gym was in his Showdown debut a year ago.
"I was shaking when I got in. It took me a good two minutes to cool down and notice the speed of the game," Mosiman shared. "The first time you get in, it's like you're running a marathon in the first two minutes."
But Lewis thinks Roberts is prepared to handle the chaotic atmosphere.
"He won't be distracted very long," Lewis predicted. "He'll dig in and be the same Justin that we all know."
Copyright 2018 The Lawrence Journal-World. All rights reserved. This material may not be published, broadcast, rewritten or redistributed. We strive to uphold our values for every story published.