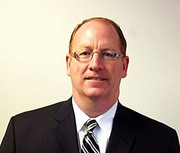 Topeka — James Bart, a Lawrence attorney, on Wednesday was named as the ombudsman who will help customers who are having any problems with the state's new Medicaid system called KanCare.
Bart currently serves on the Kansas Council on Developmental Disabilities as a parent representative, and is vice chair of the Council and previously led the group's executive committee. He is also a former member of the ARC of Douglas County, which provides services to people with developmental disabilities and their families in Douglas, Jefferson, Osage and Franklin counties.
As the KanCare ombudsman, Bart will be responsible for assisting consumers with access, service and benefits issues.
KanCare is the state's overhaul of the Medicaid system that takes effect Jan. 1. The $2.9 billion a year program will now be handled by three managed care organizations.
"Mr. Bart has the ideal background and experience to help KanCare consumers and assist them in reaching successful, fair resolutions of any problems they might have with the health plans and their providers," said Kansas Department for Aging and Disability Services Secretary Shawn Sullivan. "They will find him to be a strong, effective, caring ally in getting their problems addressed promptly and satisfactorily."
Copyright 2017 The Lawrence Journal-World. All rights reserved. This material may not be published, broadcast, rewritten or redistributed. We strive to uphold our values for every story published.