Members of the Jewish community gathered outside the Lawrence Arts Center on Sunday to celebrate the second day of Hanukkah with a menorah lighting, organized by the Chabad Center for Jewish Life.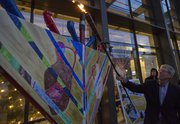 Rabbi Zalman Tiechtel, executive director of the center, said that the outdoor menorah lighting was just one of thousands happening throughout the world and that it's special for the city of Lawrence to partake in that.
"What's special about this event is that it gathers together the entire community," Tiechtel said. "In Judaism, community is a very important factor, and it's important for all of us to be here together having an event."
Hanukkah, the Jewish Festival of Lights, commemorates the miracle of one day's worth of oil lasting for eight during a rededication of the Temple by the Maccabees.
To begin the ceremony, Mayor Bob Schumm greeted the crowd. He lit the first candle of the menorah and then the children at the event followed, lighting two more. After the menorah was lit, the crowd gathered inside the center to eat potato latkes and doughnuts and to watch a demonstration about light by a group called Mad Science.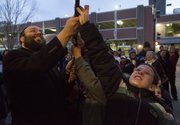 Chabad supporter Edia Klinger said she brings her two children to watch the menorah lighting every year as a holiday tradition.
"It's great for them to feel a part of the Jewish community of Lawrence," she said.
This year's menorah wasn't an ordinary menorah — it was an art project. To create it, children came together to make the piece of art at open houses. The Lawrence Arts Center was chosen as the location for the event in part to go along with the menorah's art theme. Tiechtel emphasized throughout the event the value of a close and supportive community. Even though Hanukkah is a Jewish holiday, it teaches a lesson everyone can learn and implement in their own lives.
"Light is very powerful. One little candle can erase miles of darkness," he said.
Copyright 2018 The Lawrence Journal-World. All rights reserved. This material may not be published, broadcast, rewritten or redistributed. We strive to uphold our values for every story published.