Through no fault of their own, Kansas City, Kan., Harmon's girls basketball players picked the wrong night to face Lawrence High.
Photo Gallery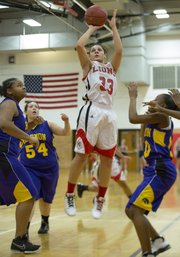 Lawrence High girl's basketball vs. KC Harmon
The Lions, who lost their first two games of the season by a combined five points, had no interest in giving the Hawks the faintest chance of keeping the game close and drubbed the visitors, 78-7, Monday night at LHS.
Less than four minutes into the beating, Lawrence (1-2) made it clear Harmon didn't stand a chance. Kylie Seaman, Anna Wright, Kionna Coleman, Jolona Shield and Makayla Bell had all scored, and LHS coach Nick Wood had five subs on the floor with the Lions leading 15-0.
"Winning's always fun, and I thought the girls did a great job," Wood said. "We came out early, we set a tone, and I thought we did a great job of maintaining a really solid level of effort throughout the game."
Junior Harmon center Aereale Jenkins scored her team's first basket on an offensive rebound with 4:20 left in the first quarter. But that proved to be the Hawks' final basket until the 6:02 mark of the fourth quarter. The Lions confounded an overmatched Harmon throughout, turning steals into fast-break points and cashing in on offensive rebounds with second-chance points.
"Once you see the ball go through the rim a couple of times early on, the girls start feeding off one another," Wood said. "When you see other people make shots, it kind of opens up the game for everyone."
At the other end of that spectrum, Harmon missed all 16 of its shot attempts from the start of the second quarter until the end of the third (a span in which it turned the ball over 18 times). LHS blanked the Hawks in the second quarter, 18-0, before adding to its monumental lead with a 24-1 third. Delia Chatmon's free throw with 5:17 left ended a scoreless drought of more than 15 minutes.
Senior Lions guard Wright, who scored a game-high 15 points and had five steals and four rebounds, said the blowout was a welcome change.
"It was good to get the win since we've had such close losses the first couple games," Wright said. "It's been tough, just being so close and not getting the win."
Sophomore point guard Marissa Pope said Wood gave the Lions goals throughout the game to keep up their intensity.
"We just wanted to make ourselves better," Pope said after leading LHS with eight steals and scoring seven points.
By the end of the fourth quarter (which included a running clock), 11 of Lawrence's 12 players had scored. Coleman finished with 14 points and six rebounds, Bell and Seaman each had eight points, Shield scored seven, Bri Anderson, Alethia McKinney, Kennedy Dold and Alexis Boyd each had four and Emma Kelly scored three.
Pope said it was kind of strange to see Lawrence's 42-2 halftime lead grow to 50, 60 and eventually 71 points.
"It's definitely a shocker, but we've been on the other end, so we know exactly how it feels," Pope said, referring to last season's struggles. "We wanted to give it our best."
LHS produced runs of 15-0, 35-0 and 20-0 in the rout. The Hawks shot 3-for-35, while Lawrence went 33-for-70.
Said Wright: "We had to keep playing tight. We couldn't let up on them just because we were up by that much."
At 5:30 p.m. Friday, Lawrence will play host to Free State in the city showdown.
Copyright 2018 The Lawrence Journal-World. All rights reserved. This material may not be published, broadcast, rewritten or redistributed. We strive to uphold our values for every story published.