Lansing — If this is how it goes when his 9-month-old daughter, Bienna, is in attendance, Free State High girls basketball coach Bryan Duncan might give her a permanent spot on his bench.
Photo Gallery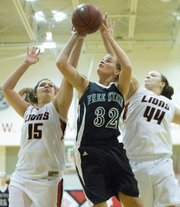 Free State girls vs. Lansing
Coaching in front of his daughter for the first time, Duncan and his team turned in a complete performance on both ends of the floor and rocked Lansing, 77-42, Saturday night at the Lansing gym.
Behind three early buckets from senior A'Liyah Rogers, who finished with 13 points, the Firebirds (2-1) jumped to a 15-4 lead, led 19-8 at the end of the first quarter and never looked back.
With points easy to come by, Duncan switched up his way of thinking after the hot start.
"Our motto tonight was, 'Who can get the most assists?'" Duncan said. "And I think we had one player with eight and two more who were right there. That was cool."
Senior Kennedy Kirkpatrick, known most for her scoring, was Free State's top passer. She didn't let the pass-first approach hurt her stat line, though, as she added 15 points to her eight assists.
"Sharing the ball and getting everybody involved was a key for us," Kirkpatrick said. "We look a lot better when we share the ball. There really wasn't a weak link tonight."
With unselfish play as the focus, Duncan figured that would lead to an even distribution of the points. That's why he made it a secondary goal to get four girls to double digits. That worked, too, as Kirkpatrick, Rogers, Chelsea Casady (13) and Scout Wiebe (10) all reached the mark, while Summer Frantz added nine and Millie Shade chipped in six on 3-of-4 shooting.
Free State's point total was one shy of its school record, something Wiebe said kept the Firebirds focused from start to finish.
"We wanted to break the record so that kept us playing hard," said Wiebe, a starter who said it was just as much fun cheering on the reserves as it was actually playing Saturday night.
Duncan played 11 girls, and all but two of them scored.
Free State's focus was not entirely centered around its offense. Duncan also said the comfortable lead allowed his team to work on different defensive looks he thought would help them down the road. Rather than pressure from start to finish, the Firebirds emphasized help-side defense, and tried to contain Lansing's bigger post players.
"The goal, when you have your opponent outmatched, is to work on the things that can help you get better," Duncan said. "And I thought, for the most part, we did that tonight."
As for when he might get Bienna to another game, Duncan already had that planned out, too.
"She'll be back Tuesday," he said of the Firebirds' next game. "Absolutely."
Copyright 2018 The Lawrence Journal-World. All rights reserved. This material may not be published, broadcast, rewritten or redistributed. We strive to uphold our values for every story published.