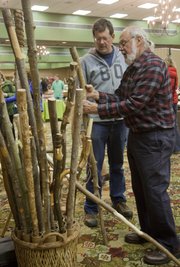 Lawrence shoppers looking for a little fresh produce and whole lot of seasonal foods and local crafts found both at the Holiday Farmers' Market held Saturday.
For attendees like Cindy Hornberger, of Lawrence, and Carrie Magill, of Topeka, the last Farmers' Market event of the year was a time to pick up some truly unique holiday stocking stuffers.
Hornberger picked out a gift bag of caramel corn, chocolate suckers, and Happy Holiday Bark for her mail carrier. She was mainly, but not exclusively, gift shopping.
"And, a little bit, for me," she said.
She also carried away bags filled with jams and jellies, coarse ground cornmeal, homemade bread, and a locally crafted bird feeder. Magill showed off a boar's bristle shaving brush and some goat milk shaving soap.
Karen Pendleton, co-owner of Pendleton's Country Market and an organizer of the event at the Holiday Inn Lawrence, 200 McDonald Drive, said picking up these kinds of unusual items was what the holiday market was all about. All of the 50 or more vendors Saturday were Farmers' Market regulars, but most brought a different array of goods at this time of year.
"It's an opportunity to get something special for someone for the holiday," Pendleton said. "And everything is local."
The shaving soap and brush, for example, came from the Homestead Ranch in Lecompton. Homestead Ranch also offered hand creams, liquid soaps and hand soaps, all made with goat milk and some in fragrances of lime, ginger, rosewood or a forest scent called "Naked in the Woods."
Hundreds of people filed into the market starting at 9 a.m., and the crowds moved slowly through the aisles partly because there was so much to see: elk jerky, custom-whittled walking sticks, winter hats recycled from sweaters, gourmet dog biscuits, pumpkin rolls, jumbo pistachios, sweet potatoes as big as a human head, and, at one table, a wide variety of emu-based products.
Ann Merkel, proprietor of the Sundance Emu Ranch in Lawrence, encouraged browsers to try a free sample of emu meat — with jalapeno or without — while examining the emu oil she offers, extracted from her flock of 65 flightless birds. There were also lotions, shampoos, and soaps made from the oil, but Merkel said she doesn't produce those all by herself, but in cooperation with business partners.
"I've got enough to do," she said, "with all of those birds."
Some shoppers kept to more traditional fare, and not all of them were thinking of others. Martha Gronniger, of Lawrence, said she was pleased to take home a selection of pears, cheeses, homemade candy and tamales.
"It's all for me," she said.
Copyright 2018 The Lawrence Journal-World. All rights reserved. This material may not be published, broadcast, rewritten or redistributed. We strive to uphold our values for every story published.