Topeka — Free State High boys basketball coach Chuck Law didn't look like a man whose team had just won its season opener when he left the visitors' locker room Tuesday night at Topeka Seaman.
Photo Gallery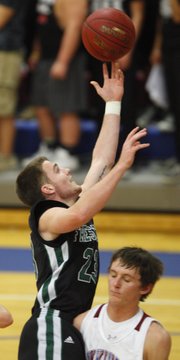 Free State boys basketball v. Topeka Seaman
Images from Tuesday night's game against Topeka Seaman.
Exasperated and shaking his head in disbelief, it was hard to tell the Firebirds had just defeated the Vikings, 65-62. But one could hardly blame the coach after FSHS had a 17-point halftime lead cut to two with 17 seconds left in the game.
"In the second half we just lost our minds and just did whatever we wanted to do — just throwing the ball over the gym, letting (the Vikings) shoot layup after layup after layup or uncontested three after uncontested three," Law said. "It was really disappointing."
Free State (1-0) played disciplined in the first two quarters, shared the ball (seven assists on 12 first-half baskets) and had seven different players score. Law didn't see that same team in the second half, when the Firebirds had three assists against seven turnovers while allowing the Vikings (0-1) to hit 19 of their 27 second-half shot attempts (70 percent).
"We were so satisfied with ourselves at halftime, we just thought we'd come out and they'd just roll over for us and let us come in on their home court and beat them like we did in the first half," Law said. "Boy, we played as poorly in the second half as we did well in the first half."
Though FSHS seemed all right to start the third quarter, with juniors Reshawn Caro and Khadre Lane scoring to keep ample distance between the Firebirds and Vikings, that quickly changed as Seaman caught fire. The Vikings hit eight of their first nine shots in the third, cutting Free State's 17-point halftime lead to 41-36.
That's when the Firebirds' bench came through. Junior swingman Blake Winslow hit a jumper to end the Vikings' run. Then senior forward Cody Scott — making his varsity debut — made a jump-hook. He followed that with a block on the defensive end and took the ball down the floor for a layup. Next, sophomore Weston Hack delivered a steal and a fast-break bucket that gave FSHS a 49-40 lead in the final minute of the third.
"Our bench saved us tonight. Absolutely," Law said. "... Cody was just a warrior tonight. Weston played pretty big-time for a sophomore playing his first significant varsity minutes."
Scott finished with 15 points on 5-for-7 shooting, with three rebounds and two blocks. Hack had eight points and three rebounds. Throw in Winslow's five points, including a three-point play with 50 seconds left, and Free State's bench outscored Seaman's 28-4.
Scott said the bench players have to play within themselves and be an anchor for the team. A drop-off in the level of play, he added, is not an option.
"It's our job to maintain it," Scott said.
With Ryan Colombo (22 points) torching Free State late — the Seaman senior guard scored 14 of his team's 20 fourth-quarter points and drilled a three-pointer from eight feet behind the line to cut the Vikings' deficit to 64-62 with 17 seconds left — Free State's bench stepped up again.
Hack made the first of his two free-throw tries with 6.9 seconds left, making it 65-62, and a half-court heave by Seaman's Butch Rea flew off the backboard as time expired, giving FSHS a narrow victory.
"It would have been nice if we could have knocked down another free throw," Scott said of the final minute, when the Firebirds made three of five.
Caro scored 11 points for FSHS. Junior guard Keith Loneker chipped in nine, Cole Moreano had eight and Lane finished with seven.
Law said Free State was lucky to win.
"We've got to get some other guys going," the coach said. "We've got some guys who are a little too content. I know it's just the first game, but we should be better than this."
Copyright 2018 The Lawrence Journal-World. All rights reserved. This material may not be published, broadcast, rewritten or redistributed. We strive to uphold our values for every story published.