Topeka — Free State High's girls basketball team never looked comfortable — even after building a 10-point fourth-quarter lead — in its season opener Tuesday and lost, 44-42, at Topeka Seaman.
Photo Gallery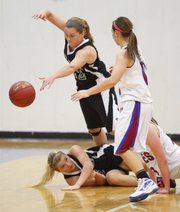 Free State girls basketball v. Topeka Seaman
Images from Tuesday night's game against Topeka Seaman
The Firebirds led 40-30 with 7:55 remaining after senior guard Kennedy Kirkpatrick opened the final quarter with a steal and a layup, but FSHS hit just one of its other 15 attempts in the final eight minutes, setting up a Seaman comeback.
Free State coach Bryan Duncan said poor shot selection and "probably bad coaching" cost his team in the fourth quarter, when almost nothing went right. With a double-digit lead and an experienced group of ball handlers on his team, Duncan wanted to spread out the Vikings (2-0) and attack them off the dribble for layups after eating up some clock.
"That's not what happened," he said.
Instead, the Firebirds (0-1) went nearly seven minutes without a bucket or a single point until senior guard A'Liyah Rogers scored inside on a pass from Scout Wiebe with 1:03 left, giving FSHS a 42-40 lead.
"I thought we were in a position where we could finally change the tempo and force (Seaman) to play the way we wanted to play by bringing them out, and ironically that ended up hurting us tonight," Duncan said.
While FSHS missed shots, Vikings post players Tatyana Legette and Rachel Heald led a Seaman comeback, combining to outscore the visitors 10-4 by themselves in the fourth.
Though Free State led 42-40 in the final minute, with the ball after a Seaman turnover, Duncan wanted his team to aggressively look for possible layups. Kirkpatrick missed a contested shot in the paint and Seaman's Mallory Searcy scored inside to tie the game at 42 with 23 seconds left to play.
"Late in the game we wanted to go for the win and we felt like a basket puts us up four and puts it away," Duncan said, admitting that strategy backfired.
After Wiebe missed a well defended shot in the post, the Vikings forced a jump ball and won possession with 16 seconds left. Legette hit Tatiana Schafer for a layup with seven seconds remaining to give the Vikings a 44-42 advantage.
Said Kirkpatrick: "There was definitely a momentum swing in the fourth quarter, and you could tell by our faces and our body language."
After a FSHS timeout, Kirkpatrick, who led the team with 11 points, missed a long three at the buzzer, giving Free State a loss to open the season. She said the Firebirds must learn how to play with a lead.
"We all feel like our shot selection in the fourth quarter was poor as a team," she said. "We struggled to keep the intensity up."
Junior Millie Shade scored 10 points off the bench for FSHS. Rogers finished with eight points and six rebounds. Senior Chelsea Casady also scored eight.
Duncan said his team is capable of a better finish: "We just didn't play well in the fourth quarter with an experienced group."
Copyright 2018 The Lawrence Journal-World. All rights reserved. This material may not be published, broadcast, rewritten or redistributed. We strive to uphold our values for every story published.