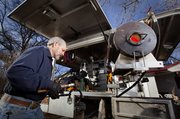 Imagine working under a 1 ton, million-dollar vehicle. Now imagine the vehicle can kick you in the head if you put the tire on wrong.
Welcome to the life of farrier Charley Mattingly.
Six days a week, sometimes 12 hours a day, Mattingly trims and shoes horse hooves, from humble farm animals to top show horses in the area for the American Royal horse show. And he takes pride in being good.
"Anyone can write the great American novel, yeah right. God doesn't come down one day and put some holy water on your head and you become a good writer. You have to work hard," he said. "I'm totally dependent on my wits, how I handle my horses and the quality of work I do. If I don't do a good job, I lose money. Each day I have to prove myself."
Mattingly describes his job as a mix between a podiatrist, shoe salesman, therapist and technician.
"It takes about three to five years to get good at and a lifetime to master," he said.
Nailing a shoe on a horse might sound simple to some, but the process is complicated. Before Mattingly begins to handle the horse, he must first inspect it. He said in his 32 years in the business, he has picked up a feel for the subtleties of the animal.
"A horse will tell you what they are going to do before they do it," he said. "We have a dangerous job, that's part of it, but you use common sense."
If an animal isn't well behaved, he'll turn it away. Mattingly didn't care to elaborate if he had ever been injured by a horse. He just said it was never bad enough to make him quit.
When he feels safe with the horse, usually when the animal acts comfortable and licks its lips, he starts on the hooves.
Mattingly said a horse hoof is like a person's fingernail. Every six to eight weeks they need a trim. To do this, he takes a "big ol' nippers" and cuts off the excess growth on the hoof. He files the horse's foot to the correct shape.
Next comes the tricky part: shoeing. Not all horses need shoes — if they are spending all day in a soft pasture, for instance. But for those navigating rocky or hard terrain, shoes are a must.
Mattingly carries a portable gas forge in his truck and custom fits each shoe, typically steel or aluminium, to the horse's foot. When the shoe is a good fit, he nails it in. He describes a horse's hoof wall as the same consistency as wood. It can be nailed. It can be drilled. It can be shaped. Doing so correctly, however, requires attention to detail.
Mattingly said about .015 inches separates a good nail placement, one that will hold the shoe, and a nail that will lame the horse. Mattingly takes this seriously.
"You wear your shoes for six hours a day, then you go home and change. I put those shoes on, and he (the horse) has those on day and night for six to eight weeks. How I trim that hoof and how I shoe the horse makes all the difference in how comfortable the horse will be," he said.
After the shoe is done, Mattingly steps back to admire his work.
"When I work on a horse it takes me two, two and a half hours," he said "When I get done, it's beautiful. There's a feeling of accomplishment."
This accomplishment helps make up for the toll the job takes on the body.
"It's cold in the wintertime and it's hot in the summertime," he said "I've bled gallons of blood. It hurts you."
But at 5 foot 5 inches and 140 pounds, he said he is the perfect build to spend most of his day bent over, something that has kept him in the business at age 60.
"Most of the time, I didn't get picked for sports and it hurt my feelings as a kid, and now it's funny because I'm the right size," he said.
Mattingly's entry into such a business followed a long path. He grew up in Evansville, Ind., and fell in love with horses visiting his uncle's farm near the Kentucky border. Down there, horses and horse racing are part of the culture.
His uncle would take him to the race track, where he would talk to the track farriers as a boy. He never thought he would make it a living, however.
"If you told me when I was 21 that I would be doing this for 32 years, I would have laughed at you."
After a stint at Indiana University, Mattingly grew tired of the school and met a man with a doctorate degree in philosophy and a master's degree in Russian who had made his living as a farrier.
This acquaintance got Mattingly interested in horse shoeing.
Mattingly then went to farrier school in Oklahoma for a year, studied under a master farrier "who could walk on water" and started his trade. On a visit to Lawrence to see his girlfriend, who later became his wife, he grew to like the area and settled down.
He then built up his business, establishing himself as one of the area's top farriers. The farrier business relies mostly on word of mouth. There is no licensing process, and it's looked down upon in the business to advertise.
"All the business I have gotten I've earned," he said. "I'm my own boss. It's all incumbent on me to do the best I can. I do the beginning and then I finish it. When I get done, I look at it and say 'I like this.'"
Since becoming established, he has trained 10 different farriers and made a pretty good life for himself.
"I love what I do. A lot of people hate their jobs. I always tell them 'Do you want to be in a nursing home living with regrets?'" he said. "I don't have a degree in philosophy and am not a philosopher, but I have read Jean-Paul Sartre and some of the greats. Carpe diem. You have to seize the day."
Copyright 2018 The Lawrence Journal-World. All rights reserved. This material may not be published, broadcast, rewritten or redistributed. We strive to uphold our values for every story published.