News, et cetera, from around schools in Douglas County: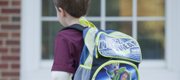 Subscribe to the email edition of First Bell and we'll deliver you the latest local education news and notes every weekday at noon.
• High school football kicks off tonight. Free State is at Olathe Northwest and Lawrence High has a home game against Shawnee Mission West. Tickets are $7 for adults and $5 for students.
In that spirit, I noticed an article written by staff at the Kansas University Hospital and posted on the KCK Preps site on student-athlete safety. Something I learned: Hydration should really start the night before the game.
The sports staff will have coverage of the games here.
• Regular readers know my interest in the Common Core. One thing I've been thinking regarding the project to change curricula across the country is how challenging that must be in terms of implementation. And not to mention slow-moving.
But who's going to pick up the bill? The Education Week site recently published an op-ed saying that trimming costs is possible. Reading the article, though, is a good exercise in astonishment — just in how big of a process the move to Common Core really is.
• You know the difference between schools in Lawrence and schools in Germany? The chance to play soccer. And the difference between here and South Korea? Not having to stay in school until 10 p.m. each night.
These are some cool distinctions I learned about while talking to Lawrence High exchange students yesterday. I'll have the chance to speak with some more international students today and will have a story soon.
• Anything you think I should learn? Drop me an email at acgarrison@gmail.com or call 832-6314.
Copyright 2018 The Lawrence Journal-World. All rights reserved. This material may not be published, broadcast, rewritten or redistributed. We strive to uphold our values for every story published.