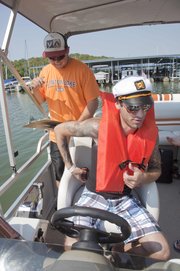 The upcoming weekend is associated more with leisure than labor. And area groups want to help make sure that Labor Day weekend is a safe one.
David Rhoades, park manager with the U.S. Army Corps of Engineers, said that, this year, people in the parks need to be especially careful around fire. The prolonged hot, dry conditions have led to a burn ban in Douglas County (including Clinton Lake and other state parks), though fires are allowed within designated pits and grills on Corps property.
And if you're going to camp, boat or fish, let someone you trust know exactly where you are, Rhoades recommended. Provide the area of the lake or the section of the campground so that if anything should happen, officials can locate you much more easily. He also provided these tips for outdoor recreation in these last days of summer:
l Make sure boats are up-to-regulation on safety equipment — that means at least one life jacket per person, lights at night and a horn or some kind of distress signal.
l Limit alcohol intake. Rhoades said the biggest complaint during holiday weekends was often related to intoxication, such as people being too loud, but alcohol also impairs abilities, which can lead to accidents if mixed with activities such as boating and swimming.
To keep little ones safe, just remember three basics: Flotation devices in water, seat belts in cars and helmets when on wheels. Lawrence Memorial Hospital Community Education Specialist John J. Drees says it's impossible to prevent all bumps and bruises, but requiring safety equipment, especially for kids, can help prevent tragedies.
For weekend holiday-makers who intend to travel outside the area, the national average gasoline price was $3.80 per gallon on Wednesday, said Betty Olivia, a spokeswoman for AAA of Kansas. That's up five cents from the day before. The increase was tied to refinery closures in anticipation of Hurricane Isaac arrival on the Gulf Coast. It's too soon to tell if gas prices will go up further, Olivia said.
AAA predicts that some 33 million people will travel 50 or more miles from their home this weekend.
Copyright 2018 The Lawrence Journal-World. All rights reserved. This material may not be published, broadcast, rewritten or redistributed. We strive to uphold our values for every story published.