Photo Gallery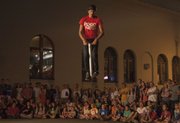 Lawrence Busker Festival 2012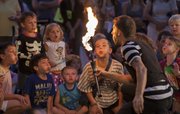 Flaming Hula-Hoops, sleight of tongue card tricks, Japanese didgeridoo/guitar music — nothing is too strange or random for the Lawrence Busker Festival.
As night fell Friday, downtown Lawrence filled with people watching buskers, or street performers, who came from across the country to show off their talents and trades as part of the three-day festival that ends Sunday.
Music filled the air as event-goers munched on funnel cakes, turkey legs or hot dogs and were entertained by acts both beautiful and bizarre.
Jonathan Burns shoved his entire body through a tennis racket. Thom Sellectomy swallowed swords. Luna Breeze danced through flaming hula hoops.
Perhaps Jack Franks, owner of Jack's Franks, described the atmosphere most concisely.
"It's a circus downtown," he said.
Franks had stocked up on supplies for his hot dog stand that operates downtown just for this occasion. When the streets get crowded, business goes up.
"Who doesn't like a circus?" he said after selling three hot dogs.
Besides helping out downtown businesses, the event also painted Lawrence as a welcoming community, said John Archibold of Denver. Archibold, accompanied by a grandson he was visiting, took a lawn chair from act to act, enjoying the scene.
"It's fun," he said. "It says (Lawrence) is kind of a friendly and enthusiastic place."
Meet the buskers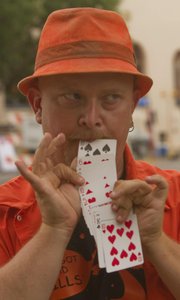 Name: Mr. Mooncalf
Skill: Street magic
From: Kansas City, Kan.
Mr. Mooncalf, dressed in an orange shirt and pants and wooden clogs, preformed magic tricks with cards, rope, cups, a bowling ball and a kiwi.
During the performance, Mooncalf summoned a card picked out by an audience member from a card deck — with his tongue.
This trick came pretty easy for Mooncalf. He said the hardest part about his job isn't the magic.
"Stopping the first group is the hard part," he said. "When one person stops, it's a lot easier."
Name: Tommee Sherwood of the band Zydeco Tougeau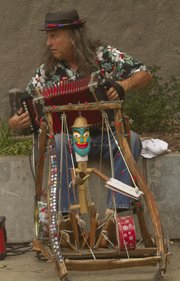 Skill: Playing the accordion and the "boogalator"
From: Overbrook
Sherwood and the band Zydeco Tougeau filled the streets with the accordion and washboard rhythms that Sherwood calls the "heartbeat" of Cajun music.
But the show had a twist. Sherwood plays a homemade instrument he calls the "boogalator"during performances. The boogalator consists of multiple ropes and pulleys that cause cookie tins to clank or a tambourine to jingle. Made out of hedge, walnut, Christmas lights and a bamboo man with a face, Sherwood said the instrument came from a moment of inspiration.
"It's a middle-of-the-night sort of invention."
Name: Debra Jennings of the Braidin' Maidens
Skill: Complex hair braiding
From: Lawrence
Jennings spends much of her time traveling across the Midwest braiding hair, but for the Busker Festival she had to only walk a few blocks from her house.
Name a braid and she does it: French braid, no problem. Five strands, easy. "The most we do is 13 (strands)," she said.
Jennings said she was using the festival to do a little advertising. Plus, she said, it's good for the city.
"It adds a charm to Lawrence," she said.
Schedule
Lawrence Busker Festival is going on through Sunday at various locations throughout downtown. Acts are planned 3 p.m. to 10:15 p.m. today and 1 p.m. to 5:45 p.m. Sunday.
For a complete schedule, go to lawrencebuskerfest.com.
Copyright 2018 The Lawrence Journal-World. All rights reserved. This material may not be published, broadcast, rewritten or redistributed. We strive to uphold our values for every story published.