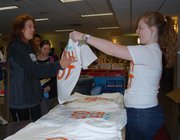 Kansas University's Center for Community Outreach encouraged students to be a part of the Lawrence community and volunteer by hosting Super Service Saturday.
"I feel like students sometimes forget Lawrence is around them, and (Super Service Saturday) helps them get into Lawrence, into the Community Outreach and make a difference," CCO Executive Director Jill Wenderott said.
Students were able to choose from 13 community organizations to volunteer with, ranging from the Lawrence Public Library to playing bingo with seniors at Pioneer Ridge Retirement Community.
Junior Sam Tinsdeall chose to volunteer with Family Promise because it helps underprivileged people, which is an area she is interested in.
"I'm looking to do volunteering within my degree program, and I thought this could help me get into it," Tinsdeall said.
Although there was a variety of volunteer opportunities to choose from, the rain caused some outdoor activities to get canceled or changed.
"A lot of sites can have more volunteers than expected, and most volunteer opportunities are inside or are adjusted to be inside instead," CCO Managing Director Nikki Boggess said.
Wenderott estimated more than 300 students volunteered through the program as individuals as well as for a group, such as a fraternity or scholarship hall. Volunteers received a free T-shirt and pizza, and had the opportunity to learn more about CCO and different volunteer programs.
"It's basically our big day to get students excited about volunteering and let them know about CCO," Wenderott said.
Copyright 2017 The Lawrence Journal-World. All rights reserved. This material may not be published, broadcast, rewritten or redistributed. We strive to uphold our values for every story published.