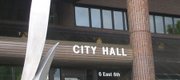 Subscribe to the email edition of Town Talk and we'll deliver you the latest city news and notes every weekday at noon.
News and notes from around town:
• It would be a matter of great debate at my house whether trading chocolate for bourbon would be a good trade. (You can probably guess my position, and the chocolate smudge on my wife's cheek may be giving hers away.) Well, you can now determine the issue for yourself in Downtown Lawrence.
There's been a change at 945 Mass., where I Bar — a unique establishment that combined fine desserts with an extensive wine bar — once was located.
I Bar is out and it has been replaced by Five Bar and Tables. The bar has scrapped the fondue-style theme, and has replaced it with a full bar, an appetizer menu and is getting into the live music scene.
Every Friday night will be Jazz night at Five Bar and Tables. Thursday and Saturday nights also will have live music and it looks like Wednesdays may be a possibility too. Owner Nick Wysong told me that in addition to Jazz, he plans on having a healthy dose of Bluegrass and cover bands.
Like I Bar was, Five Bar and Tables is connected to Ingredient restaurant, which is next door. But I'm not sure that you could really get food service from Ingredient's menu when you were at I Bar. But at Five Tables and Bar, you are able to. In addition, Wysong has developed a new appetizer menu especially for Five Bar and Tables.
Wysong is one of the founders of Ingredient, but in June he bought out the other partners and now is the sole owner and chef of the establishment.
He said re-inventing the bar side of the business was one of his priorities.
"We definitely are going for a relaxed environment that has a little bit of class to it, where you can kick back and enjoy yourself," Wysong said. "But with the live music, we're hoping to attract all different kinds of guests."
And unlike I Bar, it is definitely adopting some bar-like hours. The establishment will stay open until 2 a.m. on Fridays and Saturdays, and will offer a late night menu on those days.
There also is one other twist to all this. Wysong said he plans to begin offering a small breakfast menu on the Five side of the business on Friday, Saturday and Sunday. That menu will be served from 8 a.m. to 11 a.m.
• If I keep making jokes about chocolate being on my wife's face, I may well be in the market for a new house. Well, it appears many other people in Lawrence already are.
The numbers are out for July home sales in Lawrence, and they are the best sign yet that a sustained recovery is underway in the Lawrence real estate market.
According to new numbers from the Lawrence Board of Realtors, 121 homes were sold in Lawrence during July. That's up 40 percent from the 86 homes that were sold in July 2011.
More importantly, this is the fourth month in a row that home sales have been higher than they were for the same month a year earlier.
As a result, total home sales in Lawrence for 2012 are outpacing 2011 totals by nearly 22 percent. The Board of Realtors has recorded 551 sales in Lawrence, up from 465 during the same period a year ago.
There's even good news for new home builders. The sale of newly constructed homes — a category that has been taking a beating — is now in positive territory for the year. Builders have sold 44 homes, up from 40 during the same period a year ago.
The Lawrence numbers come at the same time national housing numbers also are showing some new life. The news on Thursday was that national home sales in July matched a two-year high. As a result, a new national survey of home builders has their confidence levels at a five-year high.
Homes sales both nationally and locally are still well below the levels seen during the housing boom of a few years ago, but nobody is expecting to get back to those levels.
Nationally, the uptick in housing has partially been fueled by lower housing prices. The article I read on Thursday estimates housing prices nationally are about a third lower than they were during the peak of the housing boom. Housing values haven't dropped anywhere near that much in Lawrence, but there are signs they are dropping.
For the year, the Board of Realtors calculates the median selling price of homes in Lawrence is down 5.6 percent to $159,500.
The Douglas County Appraiser's office looks at a little bit broader set of statistics, but it is fair to say that office also is seeing a decline in home values. I've chatted with the appraiser and will bring you more on that in the coming days.
• If this housing rebound has you feeling so good that you are now ready to start a new business, there is a new group you can talk to.
As we reported yesterday, the Douglas County Commission approved the creation of a new Joint Economic Development Council. The county's approval comes after city commissioners unanimously approved of the idea on Tuesday night.
I've already had some people ask me how they can possibly become appointed to the new 12-member group. There are four positions on the board that are reserved for general community members. I've been telling folks the best way to express an interest in one of those positions is to contact either the Lawrence City Manager's office (832-3400) or the Douglas County Administrator's office (832-5268) to find out what paperwork you might need to fill out to be considered for an appointment. (Folks at the city also tell me they have a handy online form you can fill out, which you can find here.) The City Commission and the County Commission each will appoint two members.
The president of the Lawrence Chamber of Commerce also gets to appoint two members of the business community. If you fit that bill, you might contact Chamber President Greg Williams to express your interest.
I think economic development leaders are excited to have the new group formed. It is structured to be an advisory group only. It won't have its own budget or checkbook to implement economic development initiatives. But it will make recommendations to the city, the county, the chamber and anybody else who will listen. I still think the group may evolve into something more as time passes because it seems more and more communities who are successful in economic development have an economic development board that has some real authority.
The city and the county have had an economic development advisory board before. In fact, it included many of the same stakeholders that will be part of this group. By stakeholders I mean positions, such as the president of the chamber, KU leadership and such. Many of the people in those positions are different from when the community last had an active economic development advisory board.
I covered that old group for awhile, and then for about two years I didn't. That's because the old group went a full two years (by my memory) without meeting. And that was during a time when everybody was talking about how important economic development was. So, clearly having a group doesn't mean much. Having a group of people who are excited and passionate about economic development does. From all indications I've seen, there's a group of people out there who are raring to go on the subject of economic development.
Copyright 2018 The Lawrence Journal-World. All rights reserved. This material may not be published, broadcast, rewritten or redistributed. We strive to uphold our values for every story published.