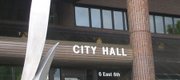 Subscribe to the email edition of Town Talk and we'll deliver you the latest city news and notes every weekday at noon.
News and notes from around town:
• Get out your sketch pads. City officials are getting more serious about commissioning a $75,000 piece of public art for the library expansion project.
At their meeting tonight, city commissioners will be asked to approve a request for proposals for large public art projects. City officials hope to have preliminary sketches of ideas by Oct. 5.
It appears city officials are trying to plant the seed with artists to think large — as in a 200-by-20-foot wall. The draft request for proposals highlights that the $75,000 budget for the project could be expanded if the artist comes up with a way to incorporate the art into the actual architecture of one of the buildings.
Specifically, the city notes that the north wall of the planned parking garage could be a prime opportunity. As currently planned it is about 200 feet long by 20 feet tall and is envisioned to be covered with a "perforated metal skin." Perforated metal skin sounds like a good name for either a punk rock band or a tattoo shop, but I'm not sure officials want it as a signature element to the $19 million library expansion, so efforts to spruce it up are probably welcome.
There are, however, other areas the city recommends artists to focus on. One is a 60-by-400-foot sculpture garden that architects have drawn in near the southeast corner of the library, where the main entrance will be located.
The city document also mentions the large community plaza area that will be between the library and the parking garage, and it states the plaza may incorporate a water feature. (Probably to cool off all those folks who have read "Fifty Shades of Grey.")
The city also notes there will be a large atrium display near the center of the library. It will consist of a "14-foot wide, two-story volume available for suspended media." I'm not exactly sure what a volume is or suspended media (it is probably best if you insert your own "Fifty Shades of Grey" joke here) but it sounds fun.
The city's request for proposals doesn't provide a lot of specifics about what form the art must take. It basically just tells artists to go beyond the ordinary. Artists are instructed to create a "showcase piece to inspire the public imagination" and one that will "stretch beyond a traditional interpretation of libraries and speak broadly to our mission to build community, share stories and instill a love of learning and creative pursuits."
A specially appointed group that includes some members of the Lawrence Cultural Arts Commission, Kansas University art professors and museum professionals and library officials will serve on a committee that ultimately will select the art. If I'm reading the document correctly, the City Commission won't be making the decision on what art to proceed with. In fact, it doesn't appear that any city commissioners will sit on the selection committee.
That means tonight's meeting may be the opportunity for commissioners to express any concerns about spending $75,000 on public art in this economy.
As I've previously noted, though, I wouldn't be surprised if some in the arts community don't think more should be spent. The city has a resolution that calls for up to 2 percent of the costs of a public building project to be spent on public art. If you slept through math class like I slept through art history class, let me help you out — 2 percent of $19 million is $380,000.
If Lawrence thinks the arts are going to be a major economic driver in the future, a $380,000 piece of public art certainly would get the ball rolling. It probably would get quite a public debate rolling as well.
• I don't know if it will rise to the level of public art, but I think Downtown Lawrence Inc. leaders believe a new sidewalk kiosk will be a welcome addition to downtown.
We reported on the idea of a new downtown Lawrence directory months ago, but it looks like the project is now starting to take off. The kiosk directory originally was envisioned to go in front of the U.S. Bank Tower at the southeast corner of Ninth and Massachusetts streets. But as planners started looking at the idea, it appeared a tree would have to moved under one scenario and another scenario put the kiosk in the sight line of motorists at the intersection.
So, now city staff members are recommending the kiosk be built at the northeast corner of Ninth and Massachusetts streets, which will put it close to the existing bench at that corner and kind of close to where the hot dog vendor sets up periodically.
Lawrence-based Treanor Architects has donated the design of the kiosk, which will be about 9 feet tall and 5 feet wide. The kiosk will include a map and directory of downtown similar to what you find at a mall. It also will have space to advertise downtown events or other items of note.
Doug Compton's First Management Construction has agreed to donate the materials and labor to build the sign.
City commissioners are being asked to approve the design and location of the kiosk at their meeting tonight.
• Speaking of business, city commissioners will consider creating a new group that aims to help attract more business to town.
Commissioners are being asked to create a new Joint Economic Development Council. The group will be a new advisory board that will offer recommendations on economic development policy and funding matters to the city, the county, the chamber of commerce and probably whoever else will listen.
The group will be quite a bit different than what was once envisioned by Mayor Bob Schumm and other officials. At one point, there was talk of making this group more of a governing body. In other words, it would get its own budget from the city, the county, private sources and otherwise. It then would be given some authority to spend that budget on economic development activities, such as offering incentives to good business prospects. This is pretty similar to how Topeka and several other communities operate their economic development efforts. In fact, it is pretty similar to how the Lawrence-Douglas County Bioscience Authority operates.
But in a sign that economic development matters are still touchy political business in Lawrence, the idea of giving this group that type of power fizzled before it really got a full public hearing. City Manager David Corliss has assured me the new group won't have any governing authority.
But I wouldn't be surprised if this new group ends up at that spot some day. I believe economic development leaders may use this new advisory board to prove their mettle, and then seek greater authority at a later date.
Regardless, here's how the new 12-member advisory board would be structured:
— President/CEO of the Lawrence Chamber of Commerce;
— Chair of the Lawrence Chamber of Commerce;
— A Lawrence city commissioner;
— A Douglas County commissioner;
— The Kansas University chancellor or her designee;
— The executive chair of the Bioscience and Technology Business Center;
— Two representatives from the business community appointed by the chamber president;
— Two community members appointed by the City Commission;
— Two community members appointed by the County Commission.
The group also will have five non-voting members: the vice-chair of economic development for the chamber, the Douglas County administrator, and the city managers or administrators of Lawrence, Baldwin City and Eudora.
• I'm sure this new group will spend some time talking about ways to make Lawrence more "business-friendly."
It sounds like there may be some talk of that tonight at the City Commission meeting as well. Commissioners are being asked to start the process of changing two key development regulations in the city.
One has to do with when developers must submit a retail market study. Currently, any time a development is seeking to add 50,000 square feet of new retail space or more to the city, a retail market study is required.
The city's planning director is suggesting the city study whether that requirement is necessary. The planning staff notes it now keeps its own database of retail vacancies in the city. It appears the staff would rather rely on its own analysis of the retail market than requiring developers to hire a private consultant to prepare one.
The second possible change is even more sweeping. The planning director wants the city to study whether all new rezoning projects be required to comply with Horizon 2020, which is the comprehensive plan for the city and the county.
Currently, if a proposed rezoning doesn't jibe with what Horizon 2020 calls for, the city's position has been that the developers must seek to change the entire comprehensive plan before the rezoning can be approved.
That usually adds several more hearings to the process and can add some complications to the development proposal. Planning Director Scott McCullough now notes in a memo to commissioners that "state statutes and case law view the comprehensive plan as a guide document." In other words, the comprehensive plan should be one factor in deciding whether a rezoning is appropriate, but not the overriding factor. If the change is approved, the comprehensive plan would start being viewed in that manner when it comes to rezoning requests.
Nothing will be approved in final form at tonight's City Commission meeting. Instead, commissioners are being asked to simply start the process for the Planning Commission to debate these proposed changes. After the Planning Commission does its work, the proposed changes would go to the city commission for action.
But there will be an effort to spike the changes tonight before they get to the full hearing stage. The League of Women Voters of Lawrence-Douglas County has sent a letter urging commissioners to stop the process in its tracks. I suspect it will get some debate tonight.
Let me tell you, just a few years ago the idea of making either of these two changes would have been viewed by past commissions as something close to heresy in City Hall. Tonight won't be the night big changes are made at City Hall, but tonight will be an interesting bellwether in terms of just how much the political climate has changed.
Copyright 2017 The Lawrence Journal-World. All rights reserved. This material may not be published, broadcast, rewritten or redistributed. We strive to uphold our values for every story published.