Photo Gallery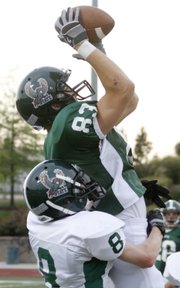 Free State High fall sports jamboree
The Free State Firebird falls sports teams introduced themselves to a crowd at FSHS Thursday night during the fall sports jamboree.
Free State High's football players know they're not perfect, but if it were up to them, they would go ahead and get the season started today instead of waiting another week.
The offense needs some touching up, senior quarterback Kyle McFarland said, but other than a minor mistake here or there, the defense has been solid through nearly two weeks of practice.
"We're ready," said McFarland, who also starts at defensive back. "We're excited to get this season going."
Of course, coach Bob Lisher has been through too many seasons in the Sunflower League to think the Firebirds are Friday-night ready.
"I see potential. I knew we had potential," the 16th-year FSHS coach said. "Now, production and potential sometimes at practice haven't been what I think they should be, but everybody's gonna say that this time of year."
The most positive sign Lisher has witnessed at practices has been Free State's quality depth, with some backups capable of challenging the starters.
"Sometimes that gives you the impression that you're not doing what you need to do," Lisher said, "but in reality you're going against some pretty good players, which makes your starters better and makes your backups better and makes your team better."
Striving for perfection, senior guard Cody Stanclift said the offense needs to get in unison before the Firebirds' season opener Aug. 31 at Olathe Northwest.
"The offensive line is good one day, and the running backs aren't good. Then the next day the running backs are good, and the offensive line is slacking," Stanclift said.
According to McFarland, junior Fred Wyatt and seniors Stanclift and Riley Buller have played well for the O-line. On defense, McFarland added, safety Joe Dineen, corner Demarko Bobo and the entire linebacking corps has played well.
The team's overall development has Stanclift wishing the preseason were over.
"I was tired of practice before it even started," he joked, "but it's necessary to be great."
To an extent, even Lisher could agree with that.
"Eventually," the coach said, "you've just got to play a game and find out where you're at."
Copyright 2018 The Lawrence Journal-World. All rights reserved. This material may not be published, broadcast, rewritten or redistributed. We strive to uphold our values for every story published.