A former federal inmate and cross-country truck driver, who earlier this year was convicted of kidnapping and sexual assault, will receive a new trial in October after a Franklin County judge declared a mistrial last month.
Ralph E. Corey, 52, was convicted in June on five counts, including attempted rape, kidnapping and sexual battery stemming from a February 2000 abduction of a 16-year-old Ottawa girl from the parking lot of the Ottawa Walmart.
But following the verdict, a juror told a court employee that the juror accessed information about the case from a smart phone during the trial — in violation of the judge's instruction — and a mistrial was declared on July 16, said Franklin County Attorney Stephen Hunting.
Corey was set to begin a three-day trial Wednesday, but his defense asked for, and received, an extension in order to review additional forensic evidence recently tested by the Kansas Bureau of Investigation, Hunting said. A new trial is scheduled for October 16.
No arrests had been made in the case until 2011, when Corey's DNA profile in the national DNA databank matched evidence collected at the scene. When the profile matched, Corey was serving time in a federal prison in Arizona on counterfeiting charges. Corey also spent time in a Virginia prison after he was caught smuggling 500 pounds of marijuana through Virginia in a semitrailer.
Corey is currently being held at the Franklin County Jail.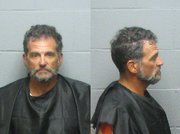 Copyright 2018 The Lawrence Journal-World. All rights reserved. This material may not be published, broadcast, rewritten or redistributed. We strive to uphold our values for every story published.