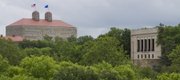 Subscribe to the email edition of Heard on the Hill and we'll deliver you the latest KU news and notes every weekday at noon.
Your daily dose of news, notes and links from around Kansas University.
• I will miss one of my favorite things about the start of the school year that's going away this fall.
That's the awarding of the annual William T. Kemper Fellowships for Teaching Excellence.
That's because the program is ending this year. More than 300 professors received cash awards from 1996 to 2011, and the "surprise patrol" of leaders of the Kemper Foundation, KU Endowment and the university were always fun to follow around for media folks like me.
More than $1.55 million was given out during the program, with funds from KU Endowment and the foundation.
All the historic winners will be recognized, however, at the Faculty and Staff Donor Recognition Reception on Sept. 12.
• KU Provost Jeff Vitter outlined some of the process that will be used to hire 12 new "Foundation Professors" that will support KU's new strategic research initiatives recently in a memo to faculty, students and staff.
The effort received a $3 million annual boost from the state legislature.
"These high-profile individuals will be supported by additional faculty hires from new and replacement positions within the university, and provided with substantial research and start-up funds via our comprehensive capital campaign," Vitter wrote.
A bigger national campaign for the positions is scheduled to launch in September, and Vitter said he is accepting nominations from the university community.
• Chip Taylor, director of KU's Monarch Watch program, has issued another update on the monarch population, which he's pretty good at tracking.
He's predicting that the population at overwintering sites in Mexico will be on the low side once again.
"I don't need to tell you that the summer was hot and dry – too hot and dry in many areas for good monarch reproduction," Taylor wrote. "We have received many comments on the poor quality of the milkweed available to monarchs for the last generation. In eastern Kansas, where the drought ranges from extreme to exceptional, milkweeds, even blue vine (Cynanchum laeve), suitable for egg laying, are scarce."
Still, he said, rain in the Midwest over the next three weeks could make a big difference in the size of the butterfly population this winter.
• Thanks to you, the population of tips for Heard on the Hill is stronger than ever, so keep them coming at ahyland@ljworld.com.
Copyright 2018 The Lawrence Journal-World. All rights reserved. This material may not be published, broadcast, rewritten or redistributed. We strive to uphold our values for every story published.