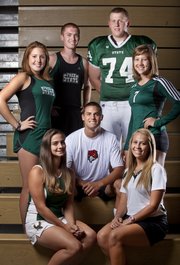 After all the offseason work and earnest preseason preparation, it's almost time to get the fall sports seasons started at Free State High.
Here's a look at what's in store for each program in the months to come.
Cross country
Year to year, Free State's cross country program doesn't see much turnover. That's good news for coach Steve Heffernan, who will have a lot of runners competing for the coveted varsity spots in a rebuilding year.
The FSHS girls, who finished ninth at state last season, have Bailey Sullivan, Molly McCord, Rosemary Newsome and Olivie Loney coming back. Key returners for the boys, who finished fourth at their regional, are Connor Ballenger and John Corbett.
Both teams, Heffernan said, have some impact newcomers — Ana and Christina Craig for the girls and Trail Spears for the boys.
"It is a new era for both our teams, as many of our team leaders (from 2011) graduated," Heffernan said. "We have several young kids who have worked hard and are ready to take their turn at leading our team in practice and competition."
The Firebirds' season begins Sept. 1 at St. Thomas Aquinas.
Football
Coach Bob Lisher and the rest of Free State's football team aren't too happy about the way last season ended.
"Our program expects to be in the playoffs," Lisher said regarding the Firebirds' 6-3 year that didn't include a postseason trip because rival Lawrence High beat them in the season finale.
But the Firebirds feel confident about their chances in 2012. Quarterback and defensive back Kyle McFarland, defensive back Joe Dineen, receiver Tye Hughes, linebacker Stan Skwarlo and linemen Cody Stanclift, Fred Wyatt and Riley Buller headline a largely intact returning group. Lisher is counting on receivers and linebackers Blake Winslow and Kieth Loneker, as well as lineman Reid Buckingham, to contribute to Free State's success, too.
Even with the goal of getting back in the playoffs, Lisher expects early challenges.
"The main thing is you always have some breakdowns, you just hope you don't have too many breakdowns," he said.
Free State opens Aug. 31 at Olathe Northwest.
Girls golf
Free State sent two of its golfers to the girls state tournament last season, but both were seniors.
"We are really young," coach Craig Hershiser said of this year's group of Firebirds.
In fact, sophomore Karen Campbell has the most varsity experience of anyone on the team. With seniors Sadie Devin, Kelsey Trast, Emily Griffin and sophomore Emily Bermel, among others, competing for varsity spots, Hershiser doesn't yet know who will emerge to lead the team.
"It's in flux," the coach said of the varsity lineup. "We're still playing it out."
Hershiser hopes to find the right combination and get everyone comfortable soon.
"I think we'll evolve quite a bit as the season moves along," he said.
FSHS begins at 3 p.m. today at Lake Shawnee Golf Course.
Gymnastics
First-year Free State gymnastics coach Jessica McMurray inherited quite an accomplished group.
The Firebirds won the 2011 state championship with Jackie Zaitz, Grace Bartle, Annie Soderberg, Hannah Moran and Haley Johnson. All five are back to help FSHS defend its crown this fall.
Zaitz, Bartle and Soderberg finished in the top seven of the all-around standings at state, and McMurray said all of Free State's gymnasts have honed their skills this summer in anticipation of a repeat performance.
The new coach said the Firebirds must perfect all the small details if they want to win another state title, because one misstep in a routine can be all the difference.
"I've been letting them know that gymnastics is a sport of chance," McMurray said. "Some days you're on, and some days you're off."
Free State will open Sept. 6 at Shawnee Mission East.
Boys soccer
With 13 seniors and seven starters gone from last year's 10-6-2 team, coach Kelly Barah knows the boys soccer program will have a new identity in 2012.
Exactly what the Firebirds become remains to be seen.
"Nobody expects anything from us because we graduated so many," Barah said. "So we feel like we have a lot to prove — and that excites us."
The third-year FSHS coach identified Luke Lesslie, Evan Smith, Rigby McClure, Alex Trent, Anthony Richardson and Caleb Francis among the many he is expecting a lot from this season.
"We hope all the new players for us contribute in a significant way," Barah said. "We believe in all of them."
Free State could be challenged as its less-experienced players adjust to the Sunflower League, so Barah said every game will be very important.
The FSHS season begins Aug. 30 at home against Bonner Springs.
Girls tennis
Coach Oather Strawderman hopes Free State's girls tennis team will get enough direction from its returning players this fall to put together a successful season.
Emily Sadosky, a varsity member since her sophomore year, and junior Alexis Czapisnki, a two-time state qualifier who finished seventh in state singles in 2011, lead the Firebirds. With their help, Strawderman said FSHS should have a great shot at performing well at regionals and qualifying multiple girls for state.
Sadosky, the coach noted, will serve as a team captain.
"The leadership she shows in practice and matches," Strawderman said, "she's going to do a great job."
Free State's less-seasoned players will have to get used to a new level of play.
"The girls that we do have," the coach said, "a lot of them were our top JV players last year."
The Firebirds' season starts Aug. 30 at Junction City.
Volleyball
Free State volleyball coach Nancy Hopkins is excited to find out just how good her team can be this year.
The Firebirds finished second in the Sunflower League and 21-15 overall last season. Though they lost three players from 2011, everybody else is coming back, including Shelby Holmes, Ashley Powers, Katy Davis, Kailee Dudley, Grace Miller and Kylee Dever.
"The team feels good about the season because there are lots of seniors and tons of experience at this level," Hopkins said. "The maturity level is higher than before, and the intensity in their play is as well."
FSHS opens with a home triangular on Aug. 30, but the Firebirds will face a big-time challenge less than two weeks into the season, when they play at the Mo-Kan Invitational at Lee's Summit West (Mo.) on Sept. 8.
"We typically don't do extremely well in it, but this year might be a different story," Hopkins said.
Copyright 2017 The Lawrence Journal-World. All rights reserved. This material may not be published, broadcast, rewritten or redistributed. We strive to uphold our values for every story published.