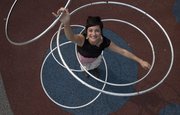 If you go
The Lawrence Busker Festival is planned for Friday through Sunday at various locations throughout downtown. Acts are planned from 5 p.m. to 10:45 p.m. Friday, 3 p.m. to 10:15 p.m. Saturday and 1 p.m. to 5:45 p.m. Sunday. For a complete schedule, go online to lawrencebuskerfest.com.
The Busker Ball performer meet-and-greet and performances will be from 7 p.m. to 9 p.m. Thursday at Lawrence Arts Center, 940 N.H. Tickets are $8 for adults or $5 for kids, with food and drink available for purchase.
Buy tickets in advance online or at the door.
Brie Blakeman is standing like a pencil, five Hula-Hoops swirling in a mass around her waist.
A few well-tuned gyrations propel two hoops into orbit above her head on one wrist, one around her neck and one down around her knees with one remaining around her waist — all still spinning like onion rings on a stick.
The trick, performed on a playground during the photo shoot for this story, attracts a semi-circle of small children, pointing in wonder while their parents clap.
Blakeman — a 24-year-old Kansas City, Mo., Hula-Hoop dancer who performs as "Luna Breeze" — is one of the Lawrence-area headline acts expected to perform at this weekend's Lawrence Busker Festival. She'll join freakish, flipping, oddball and sometimes stomach-turning performers from across the country and Japan, plus dozens of smaller acts, on the streets of downtown.
Blakeman's ability to combine circus-style hooping with elements of dance is "beyond comparison," says Richard Renner, festival organizer and owner of Vodvill Entertainment Co.
"She's so graceful," Renner says. "It just looks so easy when she does it."
Au contraire.
When she started hooping as a hobby, Blakeman was working on it maybe an hour a day. Now, she says, "I'd say that I'm almost always practicing."
Just last week, while trying to learn a new trick, a common scenario played out.
"It was at least 45 minutes of me dropping the hoop every three tries," Blakeman says, "and the trick is only, like, a second."
The first time Blakeman saw hoop dancers was in her home state of Colorado, at a String Cheese Incident concert. She was intrigued. But it wasn't until a few years later — when a friend's daughter taught her a hoop trick at a dinner party — that she jumped in with both feet.
Blakeman, then 18, and her sister both took lessons, took them seriously, and about a year later found themselves spinning glowing hoops in front of 3,000 fans at a String Cheese Incident concert.
Blakeman extended her practice into dance, which — though her grace belies it — was new to her just a few years ago.
"I actually grew up playing the cello and didn't do any kind of dance or movement," she says. "And then I started hooping and kind of found a missed love."
While dance came naturally, Blakeman says, that's partly because she worked at it with the same fervor she does her hoop tricks.
"I wanted it so badly," she says. "I don't give up until I get it."
Blakeman entered the Kansas City Art Institute as a painting student and emerged a graduate of the school's interdisciplinary program (though she says if she'd started hooping earlier she might have chosen circus school instead).
At the art institute, she found ways to incorporate hooping in her projects, including multimedia dance collaborations with other artists, light painting with LED hoops and an environmental dance production for children.
One skill she's been beefing up for this weekend's Busker Festival is, well, busking.
Busking goes beyond just performing to engaging whoever's watching you.
Blakeman says her street performances may include stories about this history of the Hula-Hoop, calls for cheering louder the higher she throws her hoops, or calling grown men up on stage to see if they can hoop (they usually can't, she says, and "it's hilarious").
You may be performing, Blakeman says, but "you're not really busking unless you're finding ways to directly involve your audience."
Copyright 2018 The Lawrence Journal-World. All rights reserved. This material may not be published, broadcast, rewritten or redistributed. We strive to uphold our values for every story published.