Danforth Chapel sits just north of Fraser Hall on Jayhawk Boulevard. The chapel, surrounded by flowers and green grass, is a quaint structure dedicated in 1946 as a place of meditation.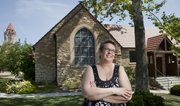 It was built with a grant from William Danforth through the Danforth Foundation, along with money and labor donated by Kansas University students and faculty. The nondenominational chapel is a popular choice for wedding ceremonies, baptisms, commitments, memorials and some student activities.
"It is definitely a nice little chapel if people are looking for small and convenient," said Becky Dunavin, senior administrative assistant at the Student Involvement and Leadership Center.
Dunavin is the go-to person when it comes to booking an event at Danforth; she has been in charge of the chapel for 15 years.
"I'm the person you'll want to talk to," Dunavin said.
She helps take care of reservations for the chapel, handles paperwork and payments, and manages the student assistants who help at the chapel during events.
People wanting to reserve the chapel must submit a form and payment to the Student Involvement and Leadership Center. Once the SILC has received the payment, the client will receive an email confirmation and an event agreement form. After completing and returning the form, all the client must do is show up for their event.
A student assistant will be available for a walk-through of the chapel before and after the event and will also be on call throughout the event in case of a problem, question or emergency.
Dunavin said a common myth is that so many people want to get married at Danforth Chapel that guests have to book reservations three years in advance. The chapel is a popular place for weddings and other events, but the chapel only books two years ahead.
Most couples book the chapel six months out, but Dunavin said reservations can be made as close as one month to the event. There can be as many as four to six weddings on a given weekend, but booking a few months ahead usually guarantees the guest the day he or she wants.
"Very rarely do we have a time where (guests) wouldn't be able to book," Dunavin said.
Another common myth about the chapel is who is allowed to use it.
"People used to believe you couldn't use the chapel unless you were affiliated with KU, and that is not true," Dunavin said.
About 25 percent of chapel users are KU alumni, and 15 percent are KU students. Members of the Lawrence community often book the chapel, too.
It costs $400 plus a $100 cleaning deposit to rent Danforth Chapel for two hours. The cost also includes an hour for rehearsal the day prior to the event. If the renter is a current KU student, the cost is discounted to $200 plus the deposit.
Dunavin said events at Danforth are convenient, and all members of the Lawrence community are welcome to use it.
"It is a super place to get married," Dunavin said.
— Staff intern Meagan Thomas can be reached at 832-6342.
Copyright 2018 The Lawrence Journal-World. All rights reserved. This material may not be published, broadcast, rewritten or redistributed. We strive to uphold our values for every story published.