In May, between 3,500 and 4,000 Kansas University graduates make the traditional walk through the Campanile and down the hill to Memorial Stadium for the commencement ceremony. Their families and friends sit in the stands while faculty and guests speak, and when the ceremony ends everyone gathers on the field to take pictures, congratulate one another and celebrate.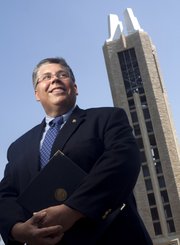 That is usually when Charlie Persinger, KU director of university ceremonies and special events, can begin to breathe easy.
"You're almost kind of waiting for if anyone walks up to you to say, 'Did you know this happened?'" Persinger said.
Persinger oversees and plans large, university-wide events and is the man who makes graduation go. He organizes the many people and departments who work together to make commencement a success.
"It is a cast of thousands, and the biggest thing is we are all working together to put on the best ceremony possible," Persinger said.
Planning for the next year's commencement ceremony begins as soon as that year's ceremony is finished. Persinger and his team first review what went well, what didn't go well and what needs to be changed. They look at maps to find what needs to be done to better accommodate people, or what seating changes should be made.
Much of Persinger's job is checklists and sitting down with partners to see what else needs to get done.
Persinger's goal is to have the spring commencement website up and about 95 percent of the planning complete by January. After that, changes are minimal, especially times and dates, to keep from confusing and inconveniencing families traveling to the event.
About two months before the ceremony, Persinger meets with the logistics committee and does a walk-through of the day to make sure everything is in place: where programs will be placed, where water will be delivered, where photographers will be and so forth.
The day of graduation, Persinger arrives at KU early. He checks in with staff at the stadium and takes care of final details like checking the number of chairs for the platform party and slapping labels on programs so each platform guest knows where to sit.
Persinger does whatever he can to make commencement convenient for students and their guests. Twitter is used to send reminders to graduates, like where to pick up their regalia or where to park. He has an army of helpers who do everything from ushering guests to directing cars to placing programs around the stadium. The commencement ceremony is even available in a live stream on the Internet and can be downloaded and viewed later by families unable to travel to Lawrence to attend.
"We want them to enjoy the experience and we want to make it easy for them," Persinger said.
Smaller ceremonies
A big part of planning graduation is organizing the more than 40 associated recognition events and ceremonies. These celebrations are more personal and are a time to recognize individual students and faculty. They are normally planned by their respective schools or organizations.
Some schools, like the School of Education, have multiple recognition ceremonies to accommodate students graduating in December or May and to make the ceremonies smaller and more intimate.
"This is the chance for students to really get advertised; it is a time to honor student and faculty award winners," said Paula Naughtin, School of Education recognition ceremony coordinator.
Naughtin plans the major details, including the ceremony script and schedule. She begins planning months in advance and begins full-time planning about four weeks before to the event. She tries to keep the location and schedule similar to previous years because changing the venue means Naughtin is no longer tweaking details to make the ceremony better but reinventing the entire thing.
Volunteers essential
Naughtin said that although she organizes the recognition ceremony, like commencement, it wouldn't be possible without volunteers.
"What I didn't understand (the first time I was coordinator) is there's no time to check everything yourself," Naughtin said. "You must trust your helpers. You can't micromanage that day or you'd go insane."
Persinger and Naughtin said the key to planning for commencement and recognition ceremonies is being flexible and ready to react if something goes wrong.
"You have to plan like crazy and then just let it flow," Naughtin said.
After the months of advance planning and the chaos of the days leading up to the event, Persinger has a sense of satisfaction as the celebration begins to unfold.
"There is a lot of joy just watching the students come down the hill and how excited their parents are," Persinger said.
— Staff intern Meagan Thomas can be reached at 832-6342.
Copyright 2018 The Lawrence Journal-World. All rights reserved. This material may not be published, broadcast, rewritten or redistributed. We strive to uphold our values for every story published.