Moving away from home and adapting to the college lifestyle can be a tough transition for some students. An unprecedented level of freedom can be overwhelming, and finding productive ways to fill time can prove difficult.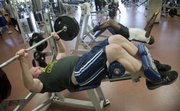 City facilities
Although students have several recreational options on campus, the city of Lawrence also offers facilities and activities.
"If you cannot find it at the Ambler Student Recreation Fitness Center, we hope you will find it somewhere in Lawrence," said Mary Chappell, director of recreaion services.
The Lawrence Parks and Recreation Department oversees the operation of several recreational centers, including the East Lawrence Recreation Center, Holcom Park Recreation Center, South Park Recreation Center and Holcom Sports Complex.
These recreation centers offer gyms, weights, cardio equipment, racquetball courts, a baseball diamond and soccer field.
The Lawrence Parks and Recreation Department also oversees youth and adult sports as well as several parks and hiking trails.
Information about Lawrence parks and trails can be found here: www.lawrenceks.org/lprd/parks
Information about adult sports can be found here: www.lawrenceks.org/lprd/adultsports
Information about the Lawrence Parks and Recreation Department can be found here: www.lawrenceks.org/lprd/index.php
One resource on campus, the Ambler Student Recreation Fitness Center, provides students many opportunities to fill that void by incorporating exercise into their routines, meeting other students, trying new activities and having fun.
The 143,000-square-foot recreation center is funded by student activity fees and provides several options for student fitness and recreation. The facility includes an aerobics studio, cardiovascular equipment, basketball and racquetball courts, a martial arts studio, a quarter-mile jogging track, weights and resistance training equipment.
"We think we have just about anything students could want," said Mary Chappell, director of recreation services.
Students also can check out sport equipment from the center at no charge. This equipment includes boxing gloves, footballs, Frisbees, jump ropes, racquetballs and racquets, soccer balls, tennis balls and racquets and volleyballs.
"There's an option for just about anyone," said Nathan Presnall, a graduate student from Winchester, Va.
The number of students who use the center varies from day to day. There have been as many as 5,000 students visiting the facility in one day, but the average is 3,500 to 3,800 visitors a day, Chappell said.
Fitness classes
In addition to the resources for individual exercise, the recreation center also offers about 40 group fitness classes a week with KU Fit. The classes incorporate all levels of ability and range from relaxation, such as yoga, to cardio, such as cycling and step classes.

"By exercising in a group setting you not only get to know a lot of other people, but there's also an extra energy you get from doing something in a group," said Presnall, who is also a KU Fit instructor. "It's like if you go to a club and you're dancing, it's usually a lot more fun, and there is more energy when there's a lot of people compared to if you are by yourself."
Presnall said he also pushes himself more when he works out with a group.
"It's really easy when you're exercising by yourself to say 'I'm tired' and just be done," he said. "Whereas in a group setting there's someone pushing you saying 'one more minute; you can do it; keep going.'"

Students can buy a single day pass for $3 for one KU Fit class. Or for unlimited fitness classes, students can purchase a half-semester pass for $25 or a full semester pass for $50. KU Fit also offers free fitness classes during finals week to help students refresh their minds and bodies as they prepare for exams.
"There have been studies that show the more active you are, the better your memory retention, and you will accomplish more in your studies," Presnall said. "I have also found that exercising helps me sleep better and fights off disease. Having a good exercise routine, in my opinion, improves everything."
Intramural, club sports
While exercising with a group has several benefits, group fitness classes might not be a good fit for everyone.
"Some people might be uncomfortable working out around other people," Presnall said. "I know when some people exercise, they like to be in their own place, their own zone."
For students looking to compete or be part of a team, recreation services also offers intramural and club sports.
The intramural sports program is competitively structured with about 30 sports ranging from flag football to racquetball. Participants can compete with other students on campus in team or individual sports.
"Intramural sports are just a way to connect with almost anybody on campus," Chappell said. "The competition is still there, but it's more about fun and building relationships, and some students have teams all the way through their years at KU."
Likewise, sport clubs also provide a competitive atmosphere but with a more serious tone.
Sport clubs practice a few times a week, and instead of competing with others on campus, the clubs travel on weekends to compete against other universities, said Tyler Spencer, the KU sport club coordinator. Sport clubs compete in tournaments as well as regional and national championships.
"Sport clubs are a great channel for students who played sports in high school," Spencer said. "They still want the college lifestyle, but they don't want the strict NCAA standards."
Any student can join a sport club, but members do have to pay dues. Depending on the sport, some dues are higher than others, Spencer said. All students can come out, practice and be on the recreational team, but for the teams that compete on a national level, they do have try-outs, and members usually pay more dues associated with the travel costs.
KU offers about 37 sport clubs including baseball, boxing, cycling, fencing, swimming, tennis, golf, ice hockey, racquetball, wrestling, volleyball, softball, and even Quidditch, a game adapted from the Harry Potter series. The KU Quidditch team competed in the Quidditch national championship last year in New York City, Spencer said.
While competition is part of the sport club program, being involved has other benefits too.
"Some students come to KU and maybe they don't know anyone around, and it's a good way to meet people quickly and doing something you love," Spencer said. "The biggest benefit is the team aspect and the family feel."
In addition to group fitness and team sports, the recreation center also offers rentals for nature lovers such as hiking and camping equipment, canoes and kayaks through its Outdoor Pursuits program. Staff members can also provide information on area hiking trails and campsites. Equipment is checked out for a daily, weekend or weekly rate.

The center also has a rock climbing wall that extends 42 feet from the lower level of the rec center to the ceiling, and has six belay lines. To use the climbing wall, a student must sign a waiver and provide a valid KU ID.
The center does not have a swimming facility, but students can use the Robinson Pool during hours designated for student recreational use.
"We know that you aren't going to stay at KU for your entire life, so we're trying to prepare you for when you leave here," Chappell said. "We want you to live longer and live a quality life."
Copyright 2018 The Lawrence Journal-World. All rights reserved. This material may not be published, broadcast, rewritten or redistributed. We strive to uphold our values for every story published.