Photo Gallery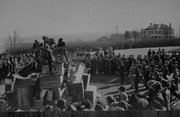 Homecoming: Jayhawk traditions and memories
Homecoming through the years
Although there is not a formal history of Kansas University's homecoming, here is a list of some of the memorable homecoming years, compiled from university publications and the KU Alumni Association.
1912
KU has a bonfire in front of Fraser Hall, burning a wooden tiger to represent the University of Missouri. The next day, KU defeated Mizzou 12-3 in KU's first-ever homecoming football game.
1921 Parades join the homecoming schedule.
1923
Hobo Day, a traditional "spirit day" when students would dress in hobo costumes to show KU spirit, is started. For many years afternoon classes were canceled to celebrate the day.
1925
The first homecoming queen is crowned, but the homecoming queen ceremony did not become a tradition until 1933.
1939
The University Senate disbands Hobo Day.
1956:
"Songs of Victory" is the homecoming theme, officially incorporating themes into the homecoming tradition.
1969
The university decided it was no longer appropriate to have a homecoming queen; final queen is crowned.
1971
150 pairs of red and blue underwear are dropped from an airplane onto Kansas State University's campus in advance of the KU-K-State game in Lawrence.
Baby Jay was hatched during halftime of the homecoming game.
1991
The first Ex.C.E.L. Award winners are announced.
2007
The first winners of the Spirit of 1912 Award are announced.
2009
The first winner of the Jennifer Alderdice Homecoming Award is announced.
On Nov. 23, 1912, Kansas University defeated the University of Missouri 12-3 in KU's first homecoming football game. One hundred years later, the university will celebrate the second-longest-running homecoming in the nation with the theme "Century Long, Tradition Strong: Homecoming on the Hill." Homecoming Week is Oct. 21-27.
"Anyone who has attended KU or is a fan understands the pride and tradition that comes with being a Jayhawk, and, as the alumni association, we're excited and proud to host an event that represents 100 years of that pride and tradition," KU homecoming adviser Caitlin Wise said.
Homecoming is one of the oldest traditions at the university and, over the years, it has morphed from a way to attract alumni to football games into a weeklong celebration of Jayhawk spirit.
Mike Davis, senior vice president of the KU Alumni Association, grew up traveling from his hometown of Colorado Springs, Colo., to Lawrence to attend homecoming with his parents. Davis graduated from KU in 1984. Attending homecoming as a child, student and now as part of the KU staff, he has watched the growth of the event for more than 30 years and thinks it has only gotten better with time.
"Some traditions were good, some bad, some needed to go away, and every year we have this week that we celebrate that pride in KU and we're fortunate because there aren't many schools that have that and we should never take it for granted," Davis said.
Traditions like a homecoming queen and the student-loved Hobo Day have fallen by the wayside, but even though homecoming has changed over the years, the premise of the event promoting the university and creating school spirit remains the same. The importance of tradition and celebrating the university's accomplishments are what keep alumni coming back to campus every fall.
"At the KU Alumni Association, we are the torchbearers of tradition and pride at KU," Davis said. "We protect tradition and promote tradition and, in today's day and age, for them (students, alumni and community members) to take time out of their lives to enjoy something past and present, 100 years of it, that is just amazing."
Among the changes to the school's centennial homecoming is moving the parade from Saturday morning to Friday night and bringing back a pep rally. Both changes were inspired from looking at older homecomings and seeing how they operated.
"We're looking back and changing back," said Matt Araiza, homecoming steering committee director.
KU graduates Rich and Judy Billings haven't missed a homecoming celebration since 1957. They've seen countless changes to the homecoming routine, but their favorite part of coming to Lawrence each year isn't the events or the football game. They like to hear about the students and accomplishments of the university.
"We're so proud of KU, and they're such a top-notch university and we're happy to be a part of it," Judy said.
— Staff intern Meagan Thomas can be reached at 832-6342.
Copyright 2018 The Lawrence Journal-World. All rights reserved. This material may not be published, broadcast, rewritten or redistributed. We strive to uphold our values for every story published.